Vikas alias Vicky, India's tallest man, called on Andhra Pradesh Chief Minister Dr Y S Rajasekhar Reddy at his chambers in the secretariat in Hyderabad on Thursday morning.
Eighteen-year-old Vicky is 8 feet 9 inches and weighs 210 kg. A native of Rohtak in Hary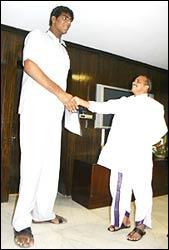 ana, Vicky is in the city for the last couple of days in connection with the inauguration of a travel agency.
Everyone looked up to him when he reached the secretariat. He had to bend to fit in the lift. The door to the CM's chambers turned out to be short too for him.

YSR looked amused dwarfed in Vicky's presence.
Vicky's poor family depends on three buffaloes for livelihood. Vicky has two siblings -- a 10-year-old sister and a 3-year-old brother. He sought financial assistance or a job from the chief minister.