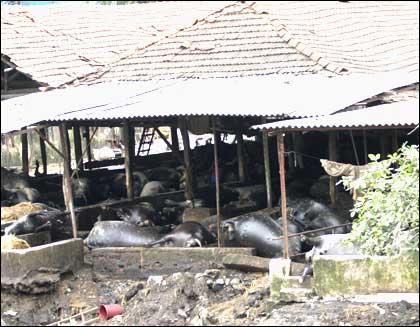 The devastating rain, which submerged Mumbai two days ago, not only claimed more than 300 human lives, but also killed thousands of animals.
The incessant rain killed 2,500 buffaloes in tabelas (buffalo sheds) across the city.
Western suburbs like Goregaon, which have the most number of tabelas, saw the deaths of many buffaloes.
The buffaloes died because they were tied up and could not escape.
Buffaloes are known to be strong swimmers; had the tabela owners freed them, the animals could have swum and saved their lives.
Three days after the monsoon's fury their carcasses lie in the tabelas and on the city's streets. Transporting the bloated buffalo bodies is a huge problem.
This has given rise to the danger of epidemics like cholera and typhoid. The Brihan Mumbai Municipal Corporation started spraying DDT on the carcasses only after the public raised its fears about the likely epidemics.
Photograph: Jewella C Miranda
Also See: Readers photographs on the plight of the animals