Coca Cola is so angry with the internationally acclaimed photographer, Sharad Haksar, that the company has threatened legal action against him. His fault -- he took a picture of a huge Coca Cola hoarding with a dry water pump and colourful empty plastic pots in the foreground.

Those familiar with Chennai know this is one of the commonest sights in the water-starved city.

What can be described as a piece of art has been interpreted as an  insult by the cola giant.

Coco Cola has been facing the brunt of the rural  population in many parts of the world. In India, especially in  Plachimada in Kerala, Coke is possibly the most hated drink.
The irony is that Coke is one of Haksar's clients. Also, it is not the first time that Haksar has done a hard-hitting social campaign. "I have been projecting  the irony of international brands in India, and this was one of the images I have taken."
He is puzzled by Coca-Cola's reaction. "It's just a picture and Chennai is full of such images. Coca Cola plasters walls with such huge posters and empty pots waiting to be filled is a common sight here. I don't know what the issue with Coke is. It's just like a cartoon on an issue. My picture is my way of highlighting the water problem in Chennai," Haksar said.
He clarified he had no intention to paint Coke in a bad light. He said he was not even aware of the anti-Coke movement in Plachimada in Kerala. "Coke is my client and why should I bring down my client. It's my bread and butter," Haksar said.
He said just three months back when he met some Coke officials, he had shown the same picture to them and none of them objected to it.

It was only afterwards that he decided to have the image displayed as his personal hoarding.

Perhaps anticipating some trouble, he even had a disclaimer painted on the picture!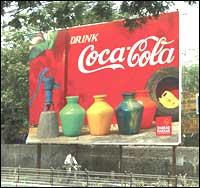 On July 11, 2005, the law firm Daniel & Gladys, who represent Coca-Cola's Indian subsidiary, sent a letter to Haksar  threatening him with legal action if the billboard was not replaced 'unconditionally and immediately'.

The letter said Coca-Cola would seek Rs 2 million for 'incalculable damage to the goodwill and reputation' of the brand if Haksar did not comply with the notice.

"I am not going to tender an apology because I have not done anything against Coke. I have not asked anyone not to drink Coke or anything like that. It could have been Pepsi or any other drink in the background, but it happened to be Coke, that's all. It is really stupid of them to send a legal notice to me," he said.
After Coca-Cola ignored Haksar's request to withdraw the notice, he decided to send them a reply through his lawyer. "I have to fight for my rights as an artist. I feel they should not have sent a legal notice to me at all," he said.
Haksar, winner of the 2005 Cannes Silver Lion, laughed at the way Coke handled the whole issue. If they had not started this legal notice business, he said, nobody would have noticed the picture at all.
Among the other pictures taken by Haksar are that of a beggar carrying a begging bowl with an image of MasterCard on it and a beggar in front of a Mercedes car. "Does that mean Mercedes will tomorrow file a suit against me saying I have brought down their image," he asked.
Photograph: www.indiaresource.org