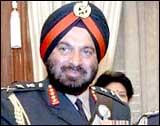 General Joginder Jaswant Singh, a hero of anti-terrorist operations, on Monday became the first Sikh officer to don the mantle of chief of the army staff.

A highly-decorated Maratha Light Infantry officer, General J J Singh is the country's 22nd army chief. He accepted the chief's baton at a ceremony from General N C Vij, the coutgoing army chief, in New Delhi.

General Singh has the distinction of being decorated with Param Vishisht Seva Medal, Ati Vishisht Seva Medal and Vishisht Seva Medal.

He has also held senior staff appointments as additional director general in the military operations during the Kargil conflict, commander-in-chief of the Army Training Command and commander-in-chief of the Western Army Command.

He was awarded the Chief of Army Staff's commendation for receiving wounds in a battle against militants in anti-
terrorist operations in J&K as a brigade commander.

'JJ', as he is popularly called in the army, has been the brain behind the evolution of a new doctrine for the Indian Army, which was released recently.