The family of 17-year-old Saurabh Singh insists that he took -- and topped -- the National Aeronautics and Space Administration's International Scientist Discovery Examination for 2005-2006, even though the American space agency says it conducts no examination.
"I am aware that Saurabh went all the way to London to take the examination," Narendra Kumar Singh, the boy's cousin, told rediff.com from his hometown in eastern Uttar Pradesh's Ballia district.
| | |
| --- | --- |
| | Also Read |
| | |
Efforts to reach Saurabh and his father failed as they are in Delhi to meet President A P J Abdul Kalam.
"The government had sponsored Saurabh's trip," Singh said.
"There were two other boys who joined him in London to take the examination. One was Himanshu from Mumbai and the other Shatrughan from Mangalore," he added.
He also agreed to part with a copy of the certificate purportedly given by NASA to Saurabh and a copy of the congratulatory note from Kalam.
The story about the 'rare honour' won by the boy first appeared in a local daily. The national and international media then picked it up.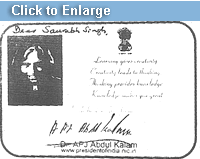 Reports quoted Saurabh claiming the award had put him in league with only two other Indians -- Kalam and NASA's late astronaut Kalpana Chawla -- who were stated to have cleared the examination in 1960 and 1988, respectively.
It was also stated in the reports that Kalam stood seventh in the exam.
But a Rashtrapati Bhavan communication said on Tuesday evening that the President had taken no such exam.
In fact, there was so much hype over the issue that members of the UP legislative council decided to formally honour the 'budding scientist'. In a unanimous resolution adopted by the House last Wednesday, each of the 100 sitting members decided to donate one month's basic salary towards a fund in the boy's name.