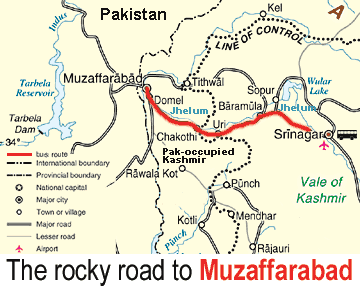 Part I : The blurring of the LoC

Uri, is a small town situated on a plateau. One road from here diversifies towards Punch in the south. The river is far below, on the other side of town, and the cliffs which form the boundary line add to the picturesque landscape.
Deal on Muzaffarabad bus likely
The Indian Army is omnipresent. Every millimetre of land is guarded by them. Uri's economy thrives on purchases by the army, which is also the biggest employer in the area. At many places the army provides kerosene, oil and food, too.
Over the last two years, the army has indulged in a moderately successful image makeover under an operation called Winning Hearts And Minds, or WHAM.
'Fauz aur awam ek hai, hamare irade nek haiArmy and people are united, our aims are sincere)' is written on the walls near the Sadbhavna (Goodwill) school run by the Army Education Corps in Uri near the border.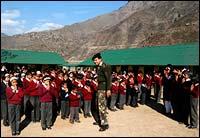 "We can't live without the army," says Uri resident Sheikh Imtiyaz.
Synthetic salwar-kameez from Surat and blankets from Ludhiana can be found in the small but cozy Uri bazaar.
"My 50 to 60 family members live in PoK (Pakistan occupied Kashmir. We will celebrate announcement (of the bus service) with music and dance,' says trader Ghulam Mohmmad Mughal.
Surjit Singh sells vegetables. His father migrated in 1947 from Muzaffarbad, leaving behind 200 acres of land. His three brothers were killed during migration.
He is frustrated because the Indian government has not done anything to transfer the wasteland given to his migrant father in Uri in his name. Although born in Uri, Singh only has a registration certificate for Permanent Residents of Protected Areas.
Srinagar Muzaffarabad bus will boost trade
He and many other Uri residents claim that in this area one can live without money but not without an identity card.
Singh's shop is on the proposed bus route. "Once the bus starts there will be a huge increase in the rate of land. I am tense because the government has not transferred the land in my family's name since 1947," he says. Uri's economy has already shown a dramatic improvement since the ceasefire along the Line of Control in 2003.
"Taras rahe hai, kab milen(we are dying to meet)," says Ismail Joo, who runs a poultry business.
"Every day we wait to hear about the bus service," says Joo, who has four sisters married and settled in PoK.
Habibullah, a resident of a neighbouring village, shows rediff.com a four-page letter which expresses the pain of his sister living in PoK.
'Ab bus aayegi. Bus zaroor aayegi.(The bus will now come for sure). Please come back home. See us before we are all dead,' the letter says.
She also advises her brother,'Let your passport be ready, once the bus starts in two hours you will be at our home!'
"When the bus will start, our life will get rejuvenated. It will add 20 years to my life," asserts Ghulam Ahmed Bande of Uri.
Many villagers living close to the LoC in the Uri sector complained that since the 786 km-long electrified fence -- codenamed Operation Deewar -- was built by the Indian Army at a whopping cost, they are finding life increasingly difficult.
This is particularly applicable to regions where the fence has been built much inside -- some 20 km in some areas -- Indian territory.
Some 20 to 30 Uri villages lie between the new fences and the LoC. The villagers have to return to their homes because the gates of the fences close down.
The electric current passing through 12-feet high fencing is killing their animals, many people complained. Underground sensors and active alarm system makes it impossible for the villagers to cross the fence illegally to reach their village.
"Our villages have been pushed into Pakistan's lap. Once the gates of the newly built fence closes, we feel insecure because we are sandwiched between the LoC and the fence at night. Pakistanis have become closer to us."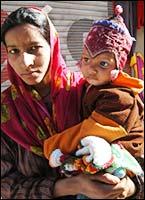 says Abdul Qayum, a resident of Silikot.
"We don't believe the bus will actually start," says Aattaullah Hando, a former principal of the Uri school.
Hando's wife Zeba has just returned from PoK. She traveled through the Attari border near Amritsar, and it took four days to reach Kauta, a village near Muzaffarbad.
Had she traveled from Uri she could have reached Kauta in less than four hours.
Whenever Uri residents return from a trip to PoK, they get a stream of visitors eager to hear stories about the 'other side.' Similarly, when she went to PoK, Zeba recalled, her relatives and strangers in the village wept on her arrival from the Indian side of Kashmir.
rediff.com spoke to many Kashmiris who have returned from PoK. They all said Muzaffarabad was truly beautiful because of its location on the confluence of the Jhelum and Neelam rivers. The power supply in PoK is uninterrupted and better than compared to the Indian side of Kashmir, they said.
According to reports, in PoK, at some places people are asked to sign an affidavit saying they believe in the ideology of Kashmir banega Pakistan (Kashmir will become Pakistan) before getting a government job.
A textile merchant of Uri said the Mirpuris of PoK are rich, because most of them migrated when the Mangla dam was constructed and took away their livelihood. They acquired skills and education. Many Mirpuris live in Britain and regularly send money to relatives in PoK.
Indian officials discount this as a superficial impression.
For many years, they say, there has been competition between India and Pakistan to show off the level of development and democracy in their respective parts of Kashmir. "Pakistan has never wanted to start the bus because they are apprehensive of the impact on PoK residents of development of our Kashmir," a senior Ministry of External Affairs official told rediff.com.
Indian officials are confident that once the bus starts, Pakistan stands to lose the psychological war. Many residents of PoK believe the Indian side of Kashmir has progressed much more than their region has.
Besides, Pakistan has allowed over 28,000 Afghan families to settle down in Muzaffarabad, and they have imported violent ideas in the name of jihad in the land of Sufis.
Over the past half century, Islam as practised in the two sides of Kashmir has also undergone enormous change.
"People don't eat Gustaba (a Kashmiri delicacy) in Muzaffarabad. They mostly eat Punjabi food. Housewives do not use utensils made of brass anymore. Also, people speak Punjabi-Urdu," Zeba told rediff.com .
Her sister, whom she met after 20 years, knew all about Indian television serials which are watched with awe in Muzaffarabad, she said. Her sister, Zeba noted, could list the characters in a popular Indian television soap opera.
Zeba took with her gifts like Kashmiri caps, almonds and shawls, and returned with textiles and fruits for her grandchildren.
Asked what she liked the most in Kauta near Muzaffarabad, Zeba said, "Freedom at all time, day and night."
Zeba's neighbour Ghulam Ahmed of Uri, who accompanied her, says life blooms 24 hours a day in PoK, while in Uri "we are within four walls after 7 pm."
Zeba complains that on the Indian side of Kashmir the army's presence and fears of terrorism restrict her movements and the social life is nothing to talk about. In PoK in the absence of terrorists people are awake and enjoy life till midnight.
She says she gossiped with her younger sister well beyond midnight.
When asked about what she found better in comparison with PoK back home, she promptly said "Education on the Indian side is better than PoK."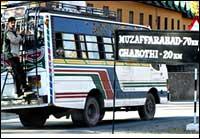 Ghulam Ahmed said his elder sister in Muzaffarabad once wrote to him that 'Brother, see me just once so that I can die peacefully.' On receiving that letter he saved money and went to PoK via Pakistan after struggling for a visa at the Pakistan embassy in New Delhi for five days. Travel took another four days.
"Only when the bus actually crosses over the LoC from Uri will I believe the news," he says. "My hopes have been dashed many times before."
Just a few steps away from Ahmed's shop in Uri bazaar, a signpost reads: Road to Muzaffarabad -- Nafrat ki deewar ko gira kar rakhenge. (We will bring down the walls of hate).
Photographs: Amin War
Image: Uday Kuckian