India and Pakistan on Wednesday agreed to start the Srinagar-Muzaffarabad bus service from April 7.
After talks between External Affairs Minister K Natwar Singh and his Pakistani counterpart Khurshid M Kasuri, it was announced that the two countries would also resume the rail service between Munabao (Rajasthan) and Kokharapar (Sindh) from October this year and launch a bus service between Amritsar and Lahore.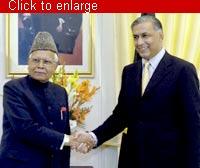 At a press conference with Kasuri by his side, Singh said that travel by the bus service between the two Kashmirs would be by the entry permit system once identification was verified.
India dropped its insistence on the use of passports alone for travel in the bus while Pakistan gave up its condition that only Kashmiris could use the service.
All Indians and Pakistanis can take the bus. However, it will not be open to citizens of other countries.
Application forms for travel will be available with the designated authorities in Srinagar and Muzaffarabad.
Earlier, Singh called on President Pervez Musharraf and Prime Minister Shaukat Aziz.
He said they agreed to look at the proposed pipeline through Pakistan subject to the satisfaction of "our concerns related to security and assured supplies".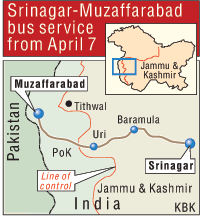 Officials of the two sides have been asked to finalise agreements on notification of missile tests, memorandum of understanding between the Indian Coast Guard and Pakistan's Maritime Security Agency and a memorandum of understanding between the narcotics control authorities.
It was also agreed that discussions would be initiated on agreements on reducing risks of nuclear accidents or unauthorised use of nuclear weapons.
Also see:

Natwar discusses bus with Musharraf