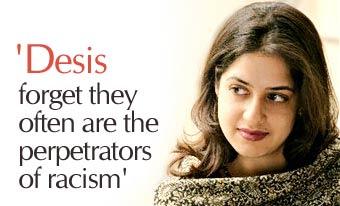 Pooja Makhijani, 26, is the editor of Under Her Skin: How Girls Experience Race in America.
She told Senior Editor Arthur J Pais in New York that her book is an anthology of essays by women who explore through a child's lens the sometimes savage, sometimes innocent, and always complex ways in which race shapes American lives. It is the first book of its kind, for it offers the experiences of women of all colors and ethnicities.
Makhijani, who has a degree in biomedical engineering from Johns Hopkins University, is pursuing a master's program in writing at Sarah Lawrence College in New York. She says she has found her real calling: writing and teaching.
Many Indians in America 'edit' their names. Were you tempted to edit yours?
Nope.  My name -- first and last -- has a musical, rhythmic quality that I adore.  I would never edit it.
Are you religious?
I value the spiritual tenets of many religions, including Hinduism, Buddhism, Sufism and Christianity.  I am interested in the overlap between art and spirituality. I am fascinated by yoga and its ability to awaken and channelise creative energy. I am drawn to the stories of the Goddess, from Gaia to Kali. 
I take comfort in the rituals of art. Before I dance, I perform a simple prayer asking the floor -- the Earth -- for her blessings and for advance forgiveness for stomping on her. Before I write, I format my Word document in a particular way: 1" margins, 12 points, Courier New font, double spacing and page numbers at the top right hand corner.
I am uncomfortable with overt displays of an extremely personal and private facet of life.  I am dismayed that most major religions have been hijacked by a minority of followers, who use it to justify and forward their politics. 
Do you believe in rebirth?
I am not sure yet.  This is one of those questions people spend a lifetime pondering. 
Imagine you can order your next life. What would you like to be born as?
I will not change it much.  I do what I love. I live with someone whom I love and respect, my husband, Jay.  No complaints, at all. But I will not mind being born as Angelina Jolie.
What will you hate to be born as?
I would hate to be born without the desire to create. 
What will be your next book?
My first picture book, Mama's Saris (Little, Brown & Company Books for Young Readers), will be out in spring 2006, hopefully in time for Mother's Day.  The book tells the story of a precocious girl's desire to dress up in her mother's beautiful saris. I am working on another picture book, a young adult book, and a book for adults — a collection of essays that weaves together disparate topics such as the draping methods of sari types (and how they vary across India), the influence of historical figures on textile and sari production, the role of imperialism, mercantilism and modern globalisation on sari design and the importance of the sari in immigrant trade economics to address the social and economic history of the sari. 
In fact, a portion of this work-in-progress will appear in Catamaran magazine, a South Asian literary magazine, this fall.
When do you write better?
I write best with music in the background, whatever time of the day it may be. Most recently, I have been writing while listening to the soundtracks of Bombay Dreams, Morning Raga and Yuva.  I get a lot done while listening to Bridges: The Best Of Ravi Shankar, a beautiful compilation album that has tracks from his 1988 concert at the Kremlin in Moscow, as well as his collaborations with George Harrison and Philip Glass.
Can you write anywhere?
As long as I have music with me, I can work. 
Who else is a storyteller in your family?
When I was about nine and in India for the summer, my aunt (my mother's eldest sister) told us, cousins, the stories of the Mahabharat in nightly installments, always leaving us with a cliffhanger each evening. She brought the story of another set of cousins alive in ways my Amar Chitra Katha comics never did. 
What did you learn from her?
I learned how to get an audience thinking about plot, language and words.  The Mahabharat has an amazing narrative arc.  I learned how to tell stories aloud in compelling ways.  This is why I am so drawn to picture books.  They are often read aloud -- in classrooms and as bedtime stories. 
Why are desi parents scared of letting their daughters date?
Whatever their reasons are, should they not be equally concerned about their sons? I understand if parents are reluctant to let their children -- sons and daughters -- date, but they should not discriminate.
Did you have a problem regarding dating?
My parents are relatively liberal. Yet they were pretty strict regarding dating while I was in high school, which was a little trying for a 16 year old.  As I grew up, I dated with their support and approval and married my college sweetheart. 
Do you feel desi parents have a set of rules for daughters and a liberal code for sons?
If desi parents are even-handed in setting house rules for their daughters and sons, that is fine with me.  I have a problem with parents who have one set of rules for sons and another for daughters. The parents who maintain irrational double standards for children have to consider whether they are depriving their daughters of meaningful opportunities. 
Many desi parents do not want their children to have sex education in school. What are your thoughts on this?
This is one thing I fail to understand.  Sex education, whether in school or at home, is absolutely essential for young people to make informed decisions about their health and well being.  People, teens included, make the best decisions when given enough accurate information from all sides of the issue, and are trusted to follow their moral compass.
Many desi parents are delusional when it comes to children and sex.  They believe that their children don't think about it, talk about it or do it. I would encourage desi parents to have frank conversations with their children about sex.
In my experience and through my observations, desi children who did not have sex education or open conversations with parents had difficulty confronting the issues.  Many of the guys had antiquated and misogynistic views on sex and sexuality and the girls often engaged in irresponsible, self-destructive sexual behavior.    
You are volunteering as a writing mentor. Mention some practical lessons of life you have for your student.
I tell her to dream big, which is hard for her, as she comes from a socio-economically disadvantaged background.  I tell her to apply to the best colleges and to think she can accomplish anything.  My mother used to tell me to "aim for the moon. If you miss, you may hit a star." (I recently Googled the phrase; it is attributed to American businessman W Clement Stone).  I have a list of lofty goals to accomplish. It keeps me motivated.
What have you taken from her?
I have learned -- more than before -- to appreciate the opportunities I have been given. 
Do you watch desi movies?
I adore Bollywood movies!  I have a little bit of catching up to do though. I have yet to see Swades and Kisna.  My husband is not very keen on them, but I am converting him.
What do you like and hate the most about them?
Bollywood is wonderfully escapist.  And completely comforting, as nothing really changes.  Every blockbuster has at least one of the following: a wet sari scene, an over-the-top dance number with hundreds of mustachioed extras, an overbearing patriarch, pehla pyar (first love), and a wonderfully choreographed fight sequence in which the police show up the second the bad guys are down and out. I love the music. 
While I am not up on watching all movies, I have the latest soundtracks.  I am fascinated by the vocabulary of the genre — filmi, masala, dishum-dishum, time pass, paisa vasool.  I know this will find its way into a book someday! 
As for what I dislike -- while the fringes of Bollywood have produced wonderful women centric movies like Astitva, Filhaal, Pinjar and Mr and Mrs Iyer, I am waiting for a masala-filled blockbuster where the female lead role isn't to look beautiful, wear lovely clothes, sing and dance, bat her (fake) eyelashes and occasionally have tears running down her cheeks, without disturbing anything on her face. 
Some ideas: a Swades with a bright young female scientist working as a project manager at NASA who returns on a quest to find 'home'; a Main Hoon Na with a brave army woman who disguises herself as a college student to find her stepsister, falls in love with an impeccably dressed teacher, and saves the world; a Masti with three girlfriends who meet up after three years to vent their frustrations with marriage and decide that the only way to spice up their lives is have as many affairs as possible.
What are your thoughts about the racial attitudes of desis?
Desis often forget they are not always the victims of racial discrimination; they often are the perpetrators.  Our community is not blameless in perpetuating racial stereotypes to our children, especially regarding Hispanics and Blacks. 
What do you tell the older desis (and peers) about perceptions and attitudes on race? 
To older desis (and peers): While we benefit from our 'model minority' status today, we have to understand the history of the civil rights movement and the struggles (primarily borne by other minorities) to get us in the position we are today.