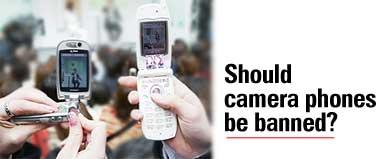 Ever heard of Vanga Geetha?
If you haven't, you better do now.
Geetha, a Rajya Sabha member from the Telugu Desam Party, on Thursday moved a private member bill in the House.
She demanded a ban on camera phones in public places arguing that these phones are increasingly being used to pry into private lives of people.
She also wanted the legislation to regulate the use of such phones by children.
Now, does Geetha have a point here?
Do you think the use of these latest gizmos in public places is a threat to your privacy?
Or are these merely fun tools as their manufacturers would want us to believe?
And, also, should they come with the statutory warning, "Keep out of reach of children"?
Have your say. Tell us.