Iran has long been a country of questions.
Questions it has inspired in those within and without its borders.
While America thrives in painting it as part of the axis of evil, its neighbours regard it as a stumbling block of sorts.
So, when 14 Indian women journalists were issued an invitation to the land once known as Persepolis, Managing Editor (National Affairs) Sheela Bhatt jumped at the chance. This, the final part of a series of features, is her attempt at finding a few answers..

Part One: Persepolis and Pyar-Mohabbat
Part Two: Vegetarians are not normal here


The minute you land in Tehran, it is difficult to escape the fact that you are in a country with no direct links to Washington. Since the 1979 Islamic revolution against the then ruling Mohammad Reza Shah Pahlavi and the sensational seizure of the US embassy in Tehran, the US has had no ties with Iran. However, it is said that after 9/11, America occasionally maintains informal contacts through the Swiss and Pakistani embassies.
Another inescapable fact that hits a visitor is that the last Shah of Iran is a forgotten man. He ruled Iran from 1941 to 1979, and the era of the Pahlavis is now buried deep in history. One detects no nostalgic memories of his rule.
In  1997, when 28.2 million Iranians turned out to vote for their future President, their social life changed for the better. In a landslide victory, Mohammad Khatami secured 21.7 million votes and ruled the country till August 5, 2005. During that period, Iran remained a theocratic nation, but the Iranians -- particularly youth and women -- tasted at least some democracy, along with social and individual freedom.
If you read Iranian blogs or meet Iranian women in Tehran, you notice how they are geared up to struggle against harsh social and political restrictions of any kind. Five Iranian bloggers were arrested a year ago, but they are irrepressible. The government unashamedly blocks a large number of web sites, but is still unsuccessful in painting anything American as black. People are selective in their approach to the US.
The new President Mahmoud Ahmadinejad -- who is conservative and completely devoted to the Supreme Leader of the Islamic Revolution Ayatollah Seyed Ali Khameni -- will have to tread carefully if he tries to put the reforms cloak back on. In cities and towns, many women are apprehensive about the president's possible conservative social policies.
A large hidden force in Iran is the voice of more than 3 million expatriates spread across the world. Their largest concentration is in US, which has roughly a bit more than one million. Politically, then, Iran presents an interesting setting. On one side, thousands have relatives in America. On the other, their government hates anything American. Citizens are caught in between.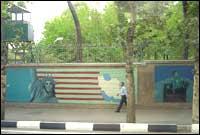 The war-like stance against America is visible everywhere. Anti-Americanism is an official policy of the government. Newspapers are full of quotes of people in power against 'American lies.' The walls of the American embassy building, now taken over by the military, boast graffiti like 'We will make America face a severe defeat'. On one side, the face of the Statue of Liberty has been replaced by a skull.
Even if one ignores government rhetoric, one cannot miss Iranian pride and patriotism. It comes out in every private conversation -- whether with elite Iranian businessmen, government officers or people on the street. "We are not Arabs or Iraqis," they invariably tell us. "We are Iranians. We can fight America like no one else can." I spoke to Matin, a handsome college-going salesman at a carpet shop in Esfahan, who told me, "The Iranian people don't hate America, but they are insulting us by disregarding our aspirations for progress."
It is easy for Indians to befriend young Iranians. Like us, Iranians talk a lot. They too open up quickly. And like many Indians, they can avoid coming to the point while discussing just about everything else. Some of them are enamoured by Hindi films, India's progress in IT and, of course, Indian women. They know quite a bit about us because there is a tradition in many families of sending children to study in India. There are, at any given time, around 5,000 Iranians at various educational faculties in India.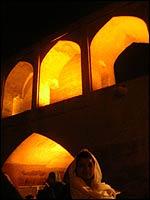 Matin is 20 years old and his eyes are full of dreams. "In Esfahan, we don't get tourists round the year," he says. "The world doesn't know how beautiful my town and its history is." When asked about the possibility of migrating to the US, he says, "Why not? I will if I get a good job opportunity." Then, understanding the intention behind the question, he adds, "America should not ignore the wishes of the people of Iran. I am ready to go to war if America attacks Iran. Americans should read the history of Persia. Please tell everybody we are a different people. America will lose badly here."
The Iranian pride sounds genuine. It is a Persian identity that binds these people together. Young or old, they are conscious of the fact that their country was invaded by Arabs centuries ago, and that Iranians should never dilute pre-Arab values. It is evident even in the blogs of American Iranians. One post, for instance, mentions how an Iranian was asked by his American girlfriend if he was an Arab. "Why do you ask?" he replied. "No, I am not an Arab. I am Persian, from Iran. I want to be Persian, not Iranian, not Arab."
Identity is a big issue for Iranians, both inside and outside their country. They are acutely insecure on account of the many threats to national security. The country is surrounded by an American presence on almost all frontiers. To the West is unstable Iraq, with whom they fought a decade-long battle and which is now occupied by America. To the East is lawless Afghanistan, again occupied by America. On the North-east, Azerbaijan and Turkmenistan have close ties with the US. The biggest ongoing problems are porous borders with Iraq and Afghanistan. Armenia, Pakistan and Turkey are also America's close allies. Israel has been spewing venom against Iran almost daily, and has serious concerns against Iran's nuclear capabilities.
Iranians have reasons to feel insecure. After all, next to Saddam Hussain's Iraq, no other country has suffered the hostility of the Americans as much as Iran has. US hostility has come in the form of freezing of its bank accounts and other assets in the US, economic sanctions, refusal to recognise the Islamic regime, and a continuous barrage of propaganda directed at the people of Iran by radio stations and television channels allegedly funded by the CIA in the name of promoting democracy.
Despite this, the Islamic Revolution ushered in by Ayatollah Khomeini in 1979 has survived. The official name of Iran is and will remain Jomhuri-ye Eslami-ye Iran, the Islamic Republic of Iran.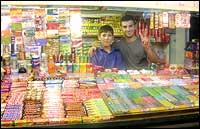 When I went to Tehran's bazaars and met the locals, I found that almost everyone had relatives in the US. Shops were full of Disney products, American make-up accessories, and T-shirts featuring Jennifer Lopez. Not that this means much. Dualism is an integral part of the Iranian character, economy and culture. An Indian executive at a leading industrial house in Tehran jokingly told me that the Iranians' minds and bodies were capable of functioning separately. This makes the American propaganda machines' chances of success dim.
The results of the recent presidential election, when traditionalist Ahmadinejad won with an overwhelming margin, showed that conservative religious and political beliefs and anger against the US were still widely shared by the people despite American efforts to subvert their loyalty to their religious leaders.
It is difficult to assess the voting pattern of the 2005 presidential election while on a brief visit. How much support to the conservative candidate was due to alleged intimidation by the Revolutionary Guard and religious militia? How much was attributable to genuine religious and political convictions of the people? How much to their self-pride and patriotism? Most experts we met claimed that all these factors played their role in frustrating the attempts of the US to undermine the stability of the Islamic regime.
While analysing the Iranian scene, one has to remember that while many Western countries were prepared to support the US' anti-Saddam machinations after his occupation of Kuwait in 1990, there is little international support for the US in its vicious campaign against Iran. As a result, Iran is not as diplomatically isolated as Iraq was under Saddam. It is not without friends either, in the West or the rest of the world. Russia, China and Pakistan are ready to help in a variety of ways.
The painful experience of the Americans in Iraq has shown that patriotism and self-pride can help a nation resist even the strongest of military powers. The people of Iran are as proud of their nation and its culture as the people of Iraq. If the Americans try to intervene in Iran as they did in Iraq, another rude experience probably awaits them.
When astute Indian Ambassador K C Singh arranged our meeting with Iranian Foreign Ministry spokesperson Hamid Reza Asefi at his palatial home in Tehran, I asked Asefi, "How do you manage to keep fighting America despite sanctions of all types? Isn't it difficult to have the US as the enemy?"
He looked at me calmly, and coolly, before replying. "There is a brighter side to it, too. It is only because we were facing US threats that we were able to successfully develop a nuclear programme of our own."

Photographs in this series: Devirupa Mitra and Ipshita Banerji