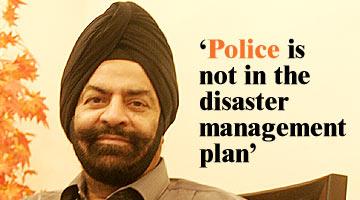 The Maharashtra police is not part of the state's disaster management plan, Maharashtra Director General of Police Dr P S Pasricha told rediff.com.
So as a lesson from Mumbai's flood disaster, the Maharashtra police has decided to begin a programme to train some of its staff in disaster management. Explaining what exactly happened on July 26th when the rains crippled Mumbai, the articulate Indian Police Service Officer spoke to Assistant Managing Editor (Special Projects) Archana Masih about the shortcomings on Terrible Tuesday and the importance of including civil defence in the school curriculum.
Most people stranded on the roads on July 26 say they did not find police personnel to help them. What was the reason? What was the command given to the staff at that time?
I asked the police commissioner of Mumbai, Mr A N Roy. He said the policemen were there but they were also trapped at different places. What do they do when there is water 10 feet high? There were no boats, nothing.
What do they do? Perhaps that was the reason because people were trapped in water. People perhaps did not see policemen because the policemen were also trapped and could not go there. So the perception of the people is also correct. They were there, but still not there.
To be very frank, the police were also directionless. Nobody had thought of this kind of disaster. Now everyone has been taught a lesson. Disaster is something unforeseen and can happen anytime.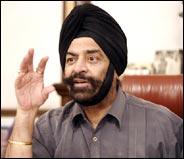 What losses has Maharashtra suffered after the floods?
It is not only the physical materialistic losses that you can compute. Nearly 5,000 square kilometres which works out to 12-and-half-lakhs -- more than one million acres of land, sugarcane and cotton crops have been damaged.
So this year farmers can't grow any other crop. 1.2 lakh (120,000) families have been dehoused. For a household servant or sweeper who loses household articles worth Rs 8,000 to Rs 10,000 that is equal to Rs 8 to 10,000 crores for him. Can you understand the trauma?
On 25th, rains struck Ratnagiri and Raigad district. I was in Delhi on the 25th, I returned in the night. So early morning on the 26th the chief secretary and I discussed the extent of damage in these two districts -- Mumbai was nowhere in the picture (at that time; the rain came down in the city noon July 26 onwards).
Then I suggested to the chief secretary that we should go by helicopter. You will not believe, it was such disastrous weather. It was not good for the helicopter, even then the chief secretary and me flew for four hours in the naval chopper.
We left around 10.30 am and came back by 2.45 pm. By then the chief minister, who is being criticised, had already convened a meeting at 4 pm that day. We attended the meeting with the CM who wanted a review of the emergency.
Mumbai was nowhere in the picture at that time. The Mumbai rains started at 3 pm and the meeting had already been convened and we took a review.
Build systems, if not leadership
Unfortunately it was 40 inches of rain, 100 cms in 15 hours. Two-and-half inches per hour. Our capacity to drain out the water is only one inch per hour and it was the highest tide of the year -- 4.7 metres. That is where we got trapped, the rivers were also flowing.
This is also a fact that there are many unauthorised constructions that caused problems but that is politics and I don't want to say anything. And those poor people suffered.
We had problems in sending relief package also. Food packets, drinking water, what do we do? Tell me? The Indian Air Force planes were ready with boats both at Jodhpur and Bangalore but they couldn't land here because the runway was under three-and-half feet of water on the 27th.
The naval chopper also couldn't take off from INS Kunjali in Colaba (in south Mumbai)to Santa Cruz (in northwest Mumbai). They just couldn't take off. The railway connection wasn't there, phones, mobile phones were not working, power brake down -- what do you do?
It was an effect of that kind. Everyone has suffered.
And the police force?
The police force stood up and did as best as possible. Because disaster management is basically the job of the municipal corporation. In the disaster management plan, the police is not there at all.
Really?
Yes, this is very interesting. The police does not figure in the disaster management committee. Good you have asked me that question and the police is expected to do everything. Whenever there is a problem, it is the police that responds first.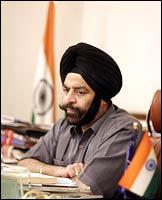 A citizen expects the police to be the first to respond in a law and order problem or any other calamity. You don't think of the municipal department or any other department but the police first.
Absolutely! And the poor police constable -- I went to the police lines after five, six days -- and a number of policemen hadn't gone home in three, four days and their families were also suffering. Their houses also had four feet water inside. There were problems and the police did their best to the extent possible.
There might have been some inadequacies also in the first few days. There were some administrative inadequacies but they were in the first few days. The warning system should have been activated but when the second round of rains came the media was totally covered and people were told not to leave their houses.
This could have been done on July 26-27 also. That weakness was there in the total system because it was not totally defined -- who is to do what when the water began rising. The traffic problem was there but then everybody was shaken and started building up strength.
This time it was the rain, next time it could be an earthquake or worse. What lessons have you learnt? How do you think things will change if a disaster were to happen?
I am going to send my recommendations to the government and some of them are like this. We have 14 SRP (State Reserve Police) battalions all over Maharashtra. One battalion has 40,000 people. We have decided that each battalion will have a company of around 100 people, well equipped and well trained for disaster management. We'll not wait for the government. We'll do it on our own, whether we are a part of the disaster management committee or not.
Ultimately, we are the first responders so we will prepare ourselves to face various kinds of disasters. That we have taken a decision, details have been worked out, we're going to start any moment. That is one thing.
Secondly, I'm going to advise the government that civil defence should become an integral part of the school and college curriculum like Japan and China. There are sirens -- some nine types of sounds for different disasters. Every child knows that if this is the sound, it is war, if this is the sound, it is an earthquake. They have been taught. You have to do this in this situation. They have been taught.
In the 1962 war with China, NCC (National Cadet Corps) was made compulsory for us. There was no choice. So why don't we teach civil defence? Because ultimately people have to help themselves first. The one person who is best committed to protect you is yourself alone.
So let us now awaken the people so that people know what to do, how to respond apart from the government machinery or NGOs. So that is one thing I'm going to do.
Then I'm going to recommend that the municipal corporation must be well equipped. They did not have adequate water pumps, they did not have necessary tools and machinery to remove people trapped under the debris. They did not have inflatable boats. We were begging from the navy and army. The plane couldn't take off or land, so we couldn't take help. Why should they (municipal corporation) not have inflatable boats located in different places?
You have to think in those terms that anything can happen, not only floods but god forbid, what if there's an earthquake, a chemical leakage?
Disaster management plans are there -- voluminous books -- but what do I do with the books? 600, 800, 1,500 pages. I basically want the gist -- that this should be done. The police should do what they are supposed to do. Fire brigade should do what they are supposed to do.
Then let us go for a helpline like 911, you have an integrated, fire brigade, ambulance services. This is how the system works. We are talking about nuclear power, we want to become a permanent member of the United Nations Security Council and all that, then let us also think big like others have done.
The other thing is they have to invest money to improve the drainage system. It is 150 years old, it has stood the test of time but today it does not have the capacity of more than 1 inch and people who throw garbage anywhere are also blocking it. So let us go for a better system. It is worth spending money, worth improving.
Lastly, all political parties should forget their political interests and come together without blaming each other, think together, involve the media, police, municipal administration and say these are the things we will not allow.
Today the Coastal Regulatory Zone, applies only to authorised constructions, but if you build jhopadpattis that is okay. Why should hutments be allowed near the airport? Let the vote bank be, let us segregate it from the ground reality. Let us think rationally, you rehabilitate them in a proper way. It need not be in Mumbai or Kurla (in northeast Mumbai) only. These are some of the issues that will have to be collectively examined without any personal interest, only in the interest of society, the nation.
I did not know that the police is not part of the disaster management plan. But the police is the most visible arm -- that people expect help from...
Yes, they are in uniform, people feel they are omnipresent, they are superhuman beings, they are gods.
The police force has come under greater scrutiny after the floods. What are you doing to restore people's faith in the police?
First thing is we have to tell them the truth -- that these are the constraints. That we are not part of the system but still we have done our best. The misinformation, the wrong perception has to be changed. The police has got a limited role, even then they have done their best.
What has happened is that the focus has fallen on Mumbai but places elsewhere in Maharashtra...
Yes, it's the financial capital. It has a voice, the vocal chord is here not in rural area.
What is the situation outside?
In the outer areas, the people who suffered are in the Thane area, particularly Kalyan, Ulhasnagar and Badlapur. Raigad district was very bad. Jui village, Chiplun. Sangli and Kohlapur districts because water had to be released from Koyna dam otherwise the dam would have burst. They had no choice and had to choose the lesser evil. A number of villages became islands -- there were three rivers -- Krishna, Panchganga and Varna. Land was worst affected over there.
Maximum loss of lives were in Mumbai, Thane, Raigad, Navi Mumbai, Ratnagiri, Kohlapur, Sangli.
What was the police force's duties during the Mumbai floods?
Basically, helping to evacuate the people and liasioning with army, navy, CRP (Central Reserve Police), SRP. Security, crime management, traffic management and besides that going to villages distributing food package. Helping the administration reach medicines, drinking water, arranging boats. It was a collective effort.
I have told my people forget oneupmanship, it is not a Mumbai or Maharashtra disaster, it is a national disaster. It's a human problem. I don't care who saved whom, let anybody take the credit but we will participate and do what our conscience expects us to do.
Have you told the political side of the administration how important it is to include the police in the disaster management plan?
You see the postmortem will begin. Maybe in the next few days we will start taking stock of where we went wrong. The inadequacies, constraints, difficulties, how to overcome, how to manage will be discussed now. Till now we were concentrating on relief and rescue but now we'll have to do some introspection to find out where we went, what went wrong, what corrections should be made.
You think it is important for the police to be included in disaster management?
Why should I speak right now? Let the people themselves find out that the police is not included. We'll continue our work. We did not want to waste our energy on petty things, but we will have to do an analysis. An introspection. We did not rise to the occasion on the first two days, fully. The way we should have -- the entire system. The police is also part of the system. We will see what were our shortcomings.
What feedback did your staff bring?
First of all, how could they not include the police in disaster management? When the public expectation begins from there. That was the first question even you asked me. They feel we should have our own boats, tools and equipment. Now we have to think about disasters like earthquake, infernos, chemical leakage, war -- we have to think about it all.
We (the police) will prepare the way we should notwithstanding what assistance we get or not get.
So your own training for the police has begun.
We have put the ball in motion. We have made a well-defined checklist of what we have to do in Maharashtra. We have to follow up and tie up with whom we will get the training -- navy or any other institute.
Does that plan need an approval?
No. I am not depending on anyone. This is self-sufficiency to the extent possible within the existing system. Then if the government asks me if I need anything, I will say this is what I want. If I can manage something why should I wait? I don't want to take a chance. If any assistance comes from the Government of India, I'll add it. But I do not want to remain hungry. I want to do my job properly so that my people are fully satisfied to the extent possible.
Photographs: Jewella C Miranda. Design: Uday Kuckian