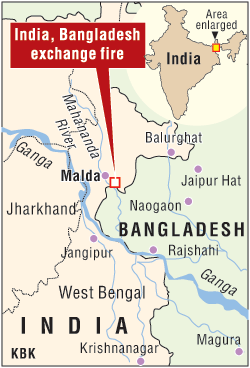 Indian and Bangladeshi border guards engaged in a heavy exchange of gunfire on Friday as both sides tried to stop each other from carrying on work on building river embankments.
"There has been firing from both sides since morning. They (Bangladesh) were carrying out construction work near the border breaking international rules," Border Security Force Deputy Inspector General OP Gaur said.
There was no report of any injury on either side.
Early on Friday, hundreds of construction workers and Bangladeshi soldiers began building a concrete embankment along the Mahananda River that flows into Bangladesh from India.
The BSF had objected to this work before, but Bangladeshi authorities went ahead with the construction, prompting the BSF to open fire first.
Shortly after, Bangladesh Rifles retaliated.
Gaur said the BDR was objecting to a similar project – a fence India had built inside its territory to stop the river from eroding away.
"They don't allow our legal construction but go ahead with their own illegal activities."
Tension was palpable along the border post, some 350 km north of Kolkata.
Both sides had called in huge reinforcements and intermittent gunfire was still being heard.
Indian authorities were temporarily evacuating border villages to avoid casualties.