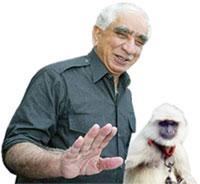 The capital's monkey menace shows no sign of abating.
A few years ago, Jaswant Singh, foreign minister in the Vajpayee government, had taken the lead in hiring a langur at a princely sum of Rs 5,000 per month to ward off the simian terrors.
Upon his shift to the finance ministry, the langur too shifted operations to the North Block.
Since then, more ministries and departments have requisitioned the langur's service.
But it was a surprise last week when one saw a rather well-fed langur keeping watch over proceedings inside the Parliament House complex.
Apparently, apes of the four-legged variety have often raided its august precincts, threatening both staff and the honourable members.
The brief given to the langur and its keeper is to sterilise the complex before the start of the day's proceedings so that no monkey business is witnessed during working hours.
Meanwhile, noticing the langur-wallah's presence, a leading MP couldn't help remarking to a scribe, 'Now, you can't say we haven't done anything for the aam aadmi'.
New doctors, for a price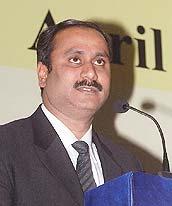 Ministers belonging to allies of the Congress party in Tamil Nadu are generally not accountable to the Prime Minister's Office, or even to 10 Janpath.
By and large, they do their own thing without anyone checking up on them.
Recently, when the PMO sought to transfer a senior bureaucrat in a ministry headed by a DMK leader, it was told, in no uncertain terms, to lay off. The move was given up immediately.
In recent weeks, however, the activities of another ally, Dr A Ramadoss of the Pattal Makkal Katchi, have assumed intriguing proportions.
As health and family welfare minister, Dr Ramdoss has taken upon himself to bypass long-established procedures to sanction new medical colleges and increase seats in existing ones. He seems determined to monopolise all power in this regard, cutting out all professional bodies. Accordingly, he has devised a plan whereby the Medical Council of India will be virtually redundant, with the minister having the last word.
According to sources, when the matter was brought to the prime minister's notice, he is said to have shrugged his shoulders, explaining, ' We do not have any control over our allies. They do what they want.'
Double standards of a secular kind
The historic Ramlila Maidan in central Delhi has in the not-so-distant past witnessed huge and sometimes historic rallies.
Of late, however, it has been shunned by parties because it is no longer possible for any of them to gather half-a-million people to fill up the ground.
Delhiites are now shocked that a multi-storeyed complex has come up just behind what is the main podium, from where speakers from Jawaharlal Nehru to Indira Gandhi, Lal Bahadur Shastri and Jayaprakash Narayan often inspired the faithful.
The building, named Haj House, has come up on land that is an integral part of the Maidan. Several prominent residents of the area have taken up the matter with the authorities, to no avail.
Nobody was willing to invite the wrath of those who had encroached on the public maidan in such a flagrant manner.
In sharp contrast, a month ago, an old temple on Rajendra Prasad Road was partially demolished by authorities when senior leaders of the Opposition, including Uma Bharti and Vijay Kumar Malhotra, rushed to the spot and stopped the demolition of idols.
Undiplomatic pressure
The buzz in the Foreign Office is that a controversial business group is unhappy with K C Singh, the straight-as-a-reed Indian ambassador in Iran.
As it has failed in enlisting the services of Singh in expanding its commercial interests in Iran, the business group is keen to see him moved out of Tehran.
Despite finding some sympathetic ears in the Cabinet, the group's pressure tactics have yet to succeed.
Falling standards at IIC
The India International Centre, that watering hole of the capital's bureaucratic and diplomatic elite in the heart of Lutyens' Delhi, has acquired a peculiar character in recent months, thanks to a retired Madhya Pradesh cadre IAS officer who has joined as its director.
Old-timers lament that the genuinely liberal and progressive themes are accorded less importance than sectarian issues and subjects dear to the so-called secularist lobby closely identified with Human Resources D Minister Arjun Singh.
Even in the matter of admission of new members, the ideal criterion seems to have been largely ignored.
While several high court and Supreme Court judges, senior secretary-level bureaucrats and noted academics have failed to find favour and are still on the waiting list, a host of people, including a large number connected with Madhya Pradesh and Chhattisgarh, have been granted membership.