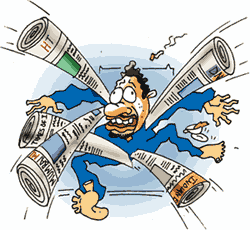 Aaargh! Somebody help me!
As I awoke bleary-eyed late on a gloomy Sunday morning, the missus came in, with a wicked glint in her eye, bearing the morning newspapers.
I did a double take. The amount of newsprint that had arrived at my doorstep was staggering. Mumbai's great media war had finally invaded my bedroom.
Along with my regular staple of The Times of India, The Indian Express and Sunday Mid-day were the newcomers -- Hindustan Times and the July-30 launched DNA, the newspaper whose ad campaign had blanketed the city in a purple haze. From this great newspaper pile popped three glossy magazines -- DNA's Me, HT's Brunch and Mirror Buzz, which came with the tabloid Mumbai Mirror, which, in turn, comes free with TOI. Phew.
I had, in my hand, 396 pages -- in sizes ranging from broadsheet to tabloid to standard A-4 magazine size to something in between. For all this, I paid a princely price of Rs 18, which included a founder's price and an invitational price.
Was this a news junkie's ultimate fix or worst nightmare?
What was I supposed to read? I had to prioritise fast. Over a quick cup of tea, I scanned the headlines of all papers. The supplements had to go, I decided. So, I quickly pruned the pile. Out came 19 supplements, including the aforementioned glossies.
The rustle of newsprint brought back the missus. The glint was still there, but the eyebrows became arched when she saw the huge mess on the bed. Without a word, she coolly picked up the glossies and buried her nose in one of them.
I was down to a slightly more comfortable 162 pages now. The wife had 120 pages of art paper filled with celebrity lives and times. For once, we were not going to have any mid-morning powwows.
The gloom and rain outside increased.
If you thought getting through 162 pages was easy, think again. But I dug in defiantly. An hour into the effort, I was still only cursorily glancing through the five newspapers. The wife had had enough of the glossies. Something in one of the papers on Mumbai's recent and continuing misery caught her eye. She picked it up and disappeared into the kitchen.
It was getting close to 1 pm now. The info overload was doing strange things to my brain. The papers were cast aside. (Don't smirk, I too have a life).
It was soon 5.30 pm. After a hearty lunch and siesta, it was back to the great newspaper challenge. Hello, I hadn't had my daily Su Doku fix. The wife had already done the one in the Bombay Times. The flip side of having so many newspapers was that there were many more for me to do.
I took on the one in Mirror. Ouch, a tough one. This was going to take time. Around 30 minutes later, I picked up the papers again. In the distance, there was a television news channel announcing that Mumbai was drowning again.
I stayed with the papers. On TV, India was running through the West Indies, so my spirits were up. Around 7, I gave up. I had covered a lot of ground, but there was still a lot unread. Moreover, India was batting now, and I had to watch.
If someone were to ask me what the headlines were in the various newspapers, I was afraid I'd do something violent.
On a hunch, I took the newspaper pile (glossies, supplements, everything) and gave it to the missus, who was going shopping for groceries. She came back and announced, with a smile, that newsprint weighed 1344 grams. That's one kilo and 344 grams. So the price of my indulgence just came down by six bucks. That's what I -- sorry the missus – would get from the raddiwala.
I haven't even started on the television news channels. They usually have something breaking, or a flash or something exclusive every five minutes. I am not going there. Know what -- I hardly missed them.
Suddenly, staying updated has acquired a whole new meaning. You lose a day if you want to stay on top of things.
Until a month ago, reading a newspaper was fairly simple. Those were the days. Aaargh!
Illustration: Dominic Xavier