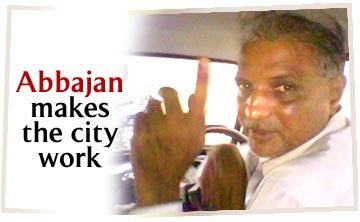 It's well into the day and my colleagues and I are at work, sipping hot Chai and exchanging fireside tales.
The best of them, naturally, concern the nameless taxi driver who we chanced upon a few hours ago and who agreed to brave the elements and reach us to office, safe and sound.
He is just one among many out on the streets keeping the city's flag fluttering high. That's Mumbai for you, a city in which everyone has a stake regardless of their station in life.
Sure, he expects to be paid for his trouble, and is not doing it out of a do-gooder spirit but then, we can visibly afford to pay. Again, that's Mumbai for you, the city of enterprise, albeit with a heart.
On Monday morning the roads around our complex seems fit for a naval exercise. And sensibly (wisdom in hindsight, really, after last week's nightmare when the stretch to the Western Express highway was a graveyard of taxis and autorickshaws), public transport had stayed off the road. It was going to be an effort to merely cross the road, I could tell from the swirling waters.
Till Abbajan's (that's how his son, with who he was in touch regularly, called him) vehicle stopped by. Only an 'outsider' would venture out in weather like this, I told myself, and yes, he was returning home, in town, after dropping off his savaar (passenger). He would try his damnedest to reach us to office, he assured; after all, he had to get home too.
And thus I found myself hurtling down the highway a little later, after he expertly manouevred out of the pond the colony had become. I knew I was in safe hands.
Heeding the police's call, or their body clock, many decided to make a long weekend of it, with the result that there was little on the road to slow us down. Not even a humongous boulder which had prised itself off a hillock on the way. At this rate, I thought to myself, I should be in office sooner than usual…
The joy lasted another couple of kilometers, till the Film City flyover, at which point all south-bound traffic was being turned around, since the highway beyond was un-navigable. As Abbajan made a U-turn, my heart sank.
"Kya saab, aapne kaha tha kisi bhi haal mein aap hamein pachunchayenge (What's the matter, you said you will reach me at any cost)," I asked him.
If the main road is shut, let's try the bylanes, was his reply, and turned towards SV Road on Goregaon west. All was well till we reached the intersection, where the sight beyond was enough to turn one's stomach. The water reached to the car door, I dared not think of the exhaust pipe behind, but Abbajan didn't ease off on the throttle.
We managed to cover the few hundred meters of water-logged road, and once again it was a joyride for a while, once again to be interrupted by barricades and a turn-back notice.
"Ab kya? (Now what?)," I asked wearily. It was already an hour since we set out on this journey that should easily qualify as a voyage. New Link Road, was his answer, and turned into it.
The relatively new road, designed to ease the traffic on Mumbai's arterial roads, seemed spick and span. And empty. On the way a police van could be heard warning the citizenry of high tide and urging them to stay indoors.
"Kya karega saab? Paanch din hogaye barabar kamaai nahi hui (What to do sir? it's been five days since I have earned the normal amount)," Aabbajan griped. I would like to sit at home too, but some of us don't have the luxury, do we. I nodded in agreement.
"Waise aap karte ho," he asked me rhetorically. "Yeh kaunsa zaroori kaam hai jiske liye aap nikal pade ho (What do you do that makes you set out on a day like this)?"
Throughout the journey, now going at a steady cruise, his son kept calling to find out where he was, how long he would take to reach etc.
Haan, but last week I was the one doing the worrying, Abbajan offers. He works near the Andheri flyover, and walked back home in the deluge, often in shoulder-high water, he recalled with pride.
There's a bit of water here and there on the Link Road, but after braving the worst the highway had to hurl him, these must have been mere puddles for Abbajan. Sure, the brakes were not working thanks to the water, the vehicle itself was a bit down in the mouth, with the window panes not working properly etc. Plus, the passenger on the backseat had to double up as cleaner and keep wiping the condensation off the windscreen.
But as I keep telling friends, what was important was that my colleagues and I got to work, where many could not. Sure, stories such as these would abound on a day like this, all made possible by ordinary men like Abbajan but for who Mumbai would not be the city it is.
Photograph: Saisuresh Sivaswamy
If your home has been devastated by Terrible Tuesday, please write to us at newsdesk@rediff.co.in