When Pakistan President Pervez Musharraf reached Rashtrapati Bhavan for the luncheon meeting with President A P J Abdul Kalam on Sunday, he expected nothing more than a brief chat with the Indian head of State and a nice lunch before leaving for the next appointment.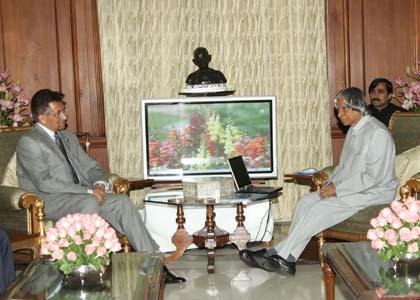 But President Kalam had other ideas. After welcoming his guest and exchanging pleasantries, the scientist-statesman took the general to his personal room and invited him to take a look at some of the projects he had been working on.
In a few minutes, the two presidents were looking at the Rashtrapati's computer, which had details of his Providing Urban Amenities in the Rural Areas scheme. In the 25-minute presentation, President Kalam explained to the visiting leader how his project will bring about a change in the lives of the rural poor.
"President Musharraf showed keen interest in the project," S M Khan, the President's press secretary, told rediff.com. General Musharraf told President Kalam there was a sizeable number of poor in Pakistan's rural areas and that he would like to implement the Rashtrapati's project there.
During the interaction, the two leaders discussed the changing world and how peace was important for the two nations to march forward.
"Place the confidence-building measures in a goodwill basket and see the eggs nurture. We should harness or direct our energy to nurture goodwill and ensure that no third party is allowed to enter or damage it," President Kalam told General Musharraf.
President Kalam recalled his meetings with students from Pakistan in November 2004 and March 2005 and how they told him that India and Pakistan should work together. "The yearning for peace is also the underlying thought in the minds of Indian students as well," he told the general.
This was followed by an informal conversation between the two men and the guests who had been invited for lunch, which lasted for an hour. President Musharraf spent two hours with President Kalam, who also presented the general with a set of his books, including Vision 2020 and the Urdu translation of Wings of Fire.