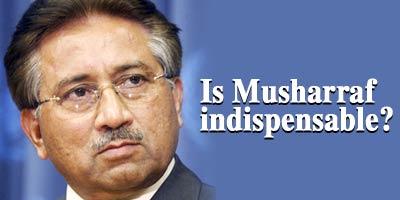 An army general who started his tenure as the chief executive of Pakistan has completed five years with a fair bit of success.
This speaks of his hold over the army, his vision for Pakistan, control over civil-military relations, and understanding of Pakistan's internal and external impediments and challenges.
On his fifth anniversary as the numero uno figure in Pakistan it is worth assessing his performance on the following counts:
A Loyal Military Man
While returning from an official trip to Sri Lanka in October 1999 he came to know in mid-air that he had been sacked and his plane was denied permission to land in Pakistan.
As a true army general and a loyal military man, his unceremonious sacking in absentia was too bitter a pill to swallow.
The disdain with which Nawaz Sharif replaced him with the director general, ISI, Lieutenant General Khwaja Ziauddin triggered him to stage a counter response to secure a safe landing for the stranded flight, and coordinate with his subordinates, Lieutenant General Muhammad Aziz Khan (chief of general staff), Lieutenant General Muzaffar Hussain Usmani (corps commander, Karachi) and Lieutenant General Mahmoud Ahmed (corps commander, Rawalpindi) the ouster of the Nawaz Sharif regime.
Musharraf elevates ISI chief to top post  
Upon his arrival, the coup was executed with utter finesse and speed and within hours the army was in control of key positions.
The army in Pakistan has never tolerated any interference in its internal matters by the political masters of Pakistan. In fact, the appointment of the army chief or navy chief has been one of the reasons in the premature demise of all civil regimes.
Musharraf, like a true military man, stood up to the occasion and masterminded a military coup from mid-air to ward off any threat to the military's prestige and standing as a force.
Burden of Kargil
After the coup, India refused to negotiate with him for toppling a democratic regime and sabotaging the Lahore peace process.
Musharraf has always been seen with scepticism in India. Although he has firmly supported the peace process now underway, yet somewhere deep inside, the memories of Kargil which Indians find difficult to forget, continue to trouble him.
And this is despite the Agra episode being a 50:50 proposition. The cardinal question for the Indians has been -- can he be trusted?
Soldier of Fortune
Pervez Musharraf has been a man of fortune and his luck never seems to have abandoned him in the last five years.
On September 11, 2001 the World Trade Center was attacked by Al Qaeda operatives. In response the US launched a massive strike against the Taliban regime in Afghanistan. Pakistan, being a bastion of hundreds of terrorist outfits, had reasons to feel threatened because of its links with Al Qaeda and the Taliban.
Instead, George W Bush offered Musharraf to join the global war against terrorism and help the US execute the ouster of the Taliban regime.
Again the old Troika of Allah, Army and America came to the rescue of Pakistan.
Musharraf grabbed it with both hands to end Pakistan's international isolation.
Till date Pakistan remains a key ally of the US, rewarded with $3 billion aid, Major Non-Nato Ally Status status and re-admittance to the Commonwealth.
Pakistan's role in the global war against terrorism gave Musharraf the opportunity to subdue terrorist outfits within Pakistan and wage operations against jihadi groups in the Federally Administered Tribal Areas for the first time in history.
These groups made several unsuccessful assassination attempts on his life which has only strengthened his position and projected him as a man who is indispensable for Pakistan.
Also, citing security and political stability as imperatives, Musharraf is now posturing to stay on as army chief after December 31, against his earlier promise.
On October 30, 2001 the Jammu and Kashmir assembly and on December 13, 2001, Parliament was attacked by the Pakistan-based Jaish-e-Mohammad terrorist group. Consequently, Indian troops were deployed along the Indo-Pak border codenamed Operation Parakram. The two adversaries were on the brink of their fifth war in 54 years.
Attack on Parliament: Complete coverage
However, the crisis fizzled out and the Indian troops were withdrawn.
Musharraf not only heaved a sigh of relief but also went on to claim before his own people the withdrawal as a victory of Pakistan's military, giving his image as a man in crisis, a tremendous boost.
Successful General
Musharraf has always commanded the respect of his subordinates and kept the troops' morale high in the wake of Al Qaeda's reprisal attack on him and his corps commanders. The Pakistani army and the ISI have played a vital role for the Americans in the global war against terrorism.
The operations in the FATA have gone to strengthen the army's stature in Pakistan. As the December 31 deadline to relinquish his uniform approaches, Musharraf has revamped the command structure, making Lieutenant General Pervez Kiani as DG, ISI, appointing new corps commanders and promoting several major general to secure their loyalties in the face of any eventuality.
As president he has always derived strength from his absolute control over the army. There has been no palpable difference in the army over his leadership which makes him the undisputed and final arbiter of decision-making in Pakistan.
Constitution's Worst Enemy
Like any other general, Musharraf has proved to be the constitution's worst enemy.
He has made a mockery of the democratic process, mauled the constitution, and done little to restore genuine democracy in Pakistan. His 'guided democracy' is nothing but a farce.
He held a constitutionally illegal referendum in April 2002 to saddle himself for five years; marginalised his political opponents one by one; played one party against the other by engineering splits in them; and appeased the ulema at the cost of the mainstream parties.
His backtracking from his promise to shed his uniform do not conform to his intentions of restoring democracy in Pakistan. His mere lip service to the Islamisation drive in the North West Frontier Province can only construed as a move to appease the ulema for political gains.
He has shown little respect for the constitution and kept the military's interest supreme in his entire tenure.
Going by his past machinations Pakistan cannot hope for a genuine representative democracy under him.
Achilles' Heel
His firm resolve to curb terrorism on Pakistani soil in the worst case may cost him his life, but make him a martyr, though his battering of the constitution may prove to be his Achilles' Heel.
History suggests that whenever a military dictator has fiddled with the constitution, he has lost credibility and legitimacy in the eyes of the people.
The rise of Benazir Bhutto in 1988, sending the military packing for ten years, was a result of Zia-ul Haq's high-handedness in political affairs.
Musharraf seems to be gradually getting sucked into a similar situation.
The day Afghanistan stabilises and Pakistan goes out of the US radar screen, Musharraf would face excessive pressure from both the international community as well as the domestic constituents over the restoration of democracy.
In this context Musharraf has faltered in prioritising Pakistan's long term interests.
His five years of dubious constitutional record could prove costly for him.
His disrespect for the constitutional processes no doubt has kept him in power thus far, but it has also dented the credibility of the army and made him no different from his political predecessors.
Can the army afford to lose its credibility?
Here Musharraf owes an 'answer' to his fellow generals, who would be blacklisted for the wrongdoings of their master.
Man of Peace
To do away with the ghost of Kargil and project himself has a political visionary, Musharraf has shown utmost sincerity in negotiating peace with India. He has shown flexibility and courage in supporting the peace process.
I have an open mind: Musharraf
He should be credited with the distinction of being the first military dictator to set aside the UN resolutions while discussing Kashmir.
In a significant departure, he toned down Pakistan's Kashmir rhetoric while addressing the UN General Assembly in September, which has been taken positively by New Delhi.
Although he displays occasional impatience in resolving disputes with India, his larger intentions of restoring normalcy in Indo-Pak relations must be underlined.
Against this backdrop, Musharraf does appear indispensable but Pakistan for its overall growth and stability needs much more than what he has been offering.
At the moment, Pakistan and Musharraf do not seem to have much of an option except making virtue out of a necessity.
Earlier features in this series:
Musharraf and the ghost of Zia
Musharraf's credibility factor
Slide show: Five years of Musharraf
Dr Ashutosh Misra is a Research Fellow at the Institute for Defense Studies and Analyses
Photograph: Mario Tama/Getty Images
Image: Uday Kuckian