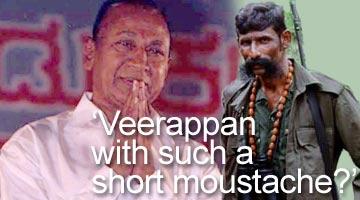 Veerappan with such a short moustache?" asks Kannada superstar Dr Rajakumar, a twinkle in his eye.
The absence of Veerappan's trademark moustache was possibly what struck Rajakumar the most in the televised images of Veerappan's dead body.
Complete Coverage: The Rajakumar Kidnapping
The thespian recalls that Veerappan used to spend at least a few minutes every day on the care of his long moustache, however hardpressed the bandit was for time.

Rajakumar himself, of course, only dons a moustache in his films. He has not had it in real life for a long time now though.
Held captive by Veerappan for 108 days, Rajakumar recalls the bandit was very proud of his moustache. He often used to display it to the actor and ask him his opinion of it.
"I once told him I admired it greatly and asked how he kept it so flourishing," recalls Rajakumar. "He used to smear all sorts of oils and herbs on it. He used to comb it every day and keep it very clean. He also used to take great pains to dye it black!"
Also Read: The mystery of the missing moustache

For Veerappan to have been motivated to cut it short, he must have really felt the heat of pursuit, feels Rajakumar.
Nothing short of a serious threat to his life could have persuaded him to chop it so short, the actor believes.
Rajakumar himself grew a beard and moustache when he was in captivity.
As soon as Veerappan released him, his sons brought a barber to the farmhouse and had Rajakumar given a clean shave.
Also Read: 'The STF has been waiting since 1992'
When Rajakumar was in captivity, much of the Kannada film industry, including his sons, did not shave or cut their hair for the duration.
'One interesting thing was for the first time since my childhood I never saw my face in a mirror for so many weeks!' Rajkumar said at a public function many months after his release. 'I looked at my face in the mirror after three-and-a-half months at that private guest house,' he said with a smile. 'At first, I could not believe what I saw! I turned around, and looked at my image over my shoulder. My God, I am back, I thought!'

Interestingly, Rajakumar now says his 108 days in captivity helped him grow in many ways.
'My time was all my own,' he said at the same function. 'I prayed to God, conversed with my inner self, and marveled at natural phenomena like day and night.'
Also Read: 'Who was responsible for Veerappan surviving so long?'
His wife Parvathamma, his three star sons Shivaraj, Raghavendra and Puneet, are relieved about Veerappan's end. So is Rajakumar, who says he can now travel freely to his village home in Gajanur. It was from there that Veerappan kidnapped him in July 2000.
Photographs: Rediff Archives
Image: Rahil Shaikh