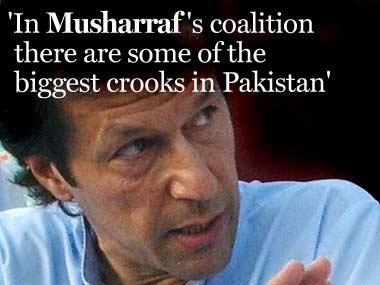 Pakistan cricket legend Imran Khan believes India and Pakistan have little choice but to sort out the Kashmir problem as soon as possible.
Indo-Pak ties at this moment are better than they were at any time before, Khan, who is chairman of the Tehrik-e-Insaf party, said.
In New Delhi to take part in the Hindustan Times Leadership Initiative Conference, Khan complained during the event that he had not been allowed to visit Kashmir.
External Affairs Minister K Natwar Singh, who was present, asked Khan to chalk out a plan and visit Kashmir whenever he wanted.
In an exclusive interview with Associate Editor Onkar Singh, Khan said he planned to visit the valley next spring.
General Musharraf claimed in an interview that he was keen to appoint you prime minister, but you declined the offer. Is it true?
Yes, he said 'Imran Khan is my nominee for prime minister, but he refused to join my coalition government.'
Why did you refuse an offer that others would have been glad to take up?
Because I started my politics against corruption. I believe people get justice only when there is no corruption.
Corrupt politicians do not allow an independent judiciary to function. And without an independent judiciary you do not have democracy.
In General Musharraf's coalition there are some of the biggest crooks in Pakistani politics. And that is the reason why I refused to join him.
If corruption was not an issue with me I could have joined the government before. In the previous government I was offered 20 seats in parliament.
Do you regret turning down the offer?
What is the point of coming to power when you cannot do anything?
You come into power because you want to make a change.
But how can you make a change when neither of the main constituents of the coalition government can afford to have an independent judiciary?
General Musharraf himself cannot afford an independent judiciary because he has come to power doing something illegal.
The same goes for the other crooks.
How would you rate Indo-Pak relations at the moment?
I look at it in a positive light.
On Monday I had a very good meeting with Congress president Mrs Sonia Gandhi. I think there is a big change in the perception of the people of both countries.
I see a tremendous difference between when I came here a year-and-a-half ago and now. Particularly the manner in which the people of India are thinking. It is positive thinking.
There is a desire for peace and moving ahead in life.
Also see: J&K: The complete picture
There was a phenomenal change during the Indo-Pak series when India visited Pakistan early this year. I saw Indian flags being flown on Pakistan grounds, the Indian team being cheered when they won. I never thought I would witness something like that during my lifetime.
That is the sort of change we are talking about. The people seemed to have decided that enough is enough -- specially the younger generation. They want to move on.
Are you saying that cricket has brought about change?
No. It was only instrumental in bringing about change. It manifested the change that was taking place in the attitudes of India and Pakistan over Kashmir.
Has this change come suddenly?
The change has come about after the standoff between the two nuclear nations in 2001. This was the turning point. The people of India and Pakistan realise we cannot resolve our differences through military means. The only way out is to hold a dialogue and sort out ticklish issues including Kashmir.
The Government of India has allowed you to travel to Kashmir. When are you going?
I am not immediately heading for Kashmir. I am going to plan my visit. Just because the Government of India has allowed me to visit Kashmir does not mean I am just going to walk into Kashmir.
I have friends in Kashmir and I will inform them about my visit after I go back to Pakistan.
When will you be in Kashmir?
I have been told the best time to be in Kashmir is during spring or summer.
Is Pakistan suffering because it trained the Afghan mujahideen who are now training their guns on Pakistan itself?
Pakistan is suffering because Pakistan supported the US in its war against Afghanistan.
The CIA waged a sort of jihad against the erstwhile Soviet Union. The CIA and ISI trained the Afghan militants to fight in Afghanistan.
Once the job was done Pakistan was left holding the baby.
The trained militants suddenly found there was no way to go and Pakistan suffered because of that.
We have sectarianism in Pakistan.
Shooting is going on in mosques.
Heroin and the Kalashnikov culture has come in.
This is the price Pakistan is paying for joining the American adventure in Afghanistan.
This is the second time Pakistan has joined the Americans in fighting a war in Afghanistan. I fear there will be greater fallout.
There is a massive operation going on in Waziristan and there is huge animosity between the Pakistan army and the tribals.
Pakistani soldiers are dying every day in the war against the tribals. Pakistan is fighting George Bush's war against Afghanistan, which is totally ill planned.
It is creating more terrorism then it is claiming to finish.
We are now facing a bigger mess than before.
Have we moved forward since then prime minister Atal Bihari Vajpayee's visit to Lahore in February 1999?
When I met Mrs Sonia Gandhi she said the resolve was there and they intend to move forward. And this is a positive development.
What did she say?
We had a 45 minute-long meeting. The main issue, of course, was the Indo-Pak relationship. We spoke about Kashmir and she said her party's government is committed to take it forward.
The Government of India has decided to resolve the issue with the government of Pakistan and that is why the Pakistani prime minister is coming to India.
We also spoke about the global war on terrorism. She is planning to visit Pakistan shortly.
Do you have any solution to the Kashmir problem?
What I had said at the leadership summit was that there are three parties to the Kashmir issue -- the Government of India, the government of Pakistan and the people of Kashmir.
The only way to find a solution is to get the proper Kashmiri leadership involved in the whole process.
There are some leaders Pakistan believes in; there are some the Indian government believes in; then there are other factions of Kashmiris.
There should be free and fair elections in the whole of Kashmir to decide what the people of the region want.
What about those who wield the gun? Will the terrorists let this happen?
Why should they not?
No one should have any objection to the solution.
Let us end this dispute once and for all. This might end up in having more autonomy than anything else.
Are you talking of holding elections in Kashmir in India and Pakistan occupied Kashmir?
Yes, the whole of Kashmir.
Moving on to cricket, do you feel Sachin Tendulkar's absence from the Indian team may have had an adverse impact on the India-Australia series, which the Aussies won 2-1?
It may be true.
I am disappointed because it was a great chance for India to win the series. The Indian performance in the first three Tests was disappointing.
The way the Indian team played in Pakistan, I had great expectations from them. The people felt if anyone could defeat the Australians the Indians could. But their performance was pathetic.
Perhaps if Sachin was playing in full form he might have made the difference.
What about Irfan Pathan?
India missed this young promising fast bowler. He is a bowler of tremendous potential and he reminds me of Wasim Akram when I look at him bowling. He has become a major wicket-taker and he was a great find in Pakistan.
Headline Image: Uttam Ghosh