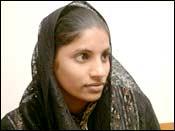 Close on the heels of prime witness in the Best Bakery case Zaheera Shaikh speaking out against an NGO, Gujarat Chief Minister Narendra Modi on Thursday said, "Their role must be studied in depth."
Talking to mediapersons after a function at Padra town on the outskirts of Vadodara, Modi said, "Wednesday's incident raises serious questions. The country, its citizens and constitutional bodies now need to look into the role of NGOs."
Zaheera Shaikh, a crucial eyewitness in the case turned 'hostile' on Wednesday and accused Teesta Setalvad, who runs the NGO that was handling her case, of 'pressurising' her to name innocent persons during the retrial of the case in a Mumbai court.
Also Read:
Zaheera changes statement
Best Bakery case: Key witness disappears
Zaheera is under Vadodara police protection: Commissioner