A key witness in the Best Bakery case on Wednesday accused the nongovernmental organisation that was helping her of "pressurising" her into making statements and naming "innocent persons" during the ongoing retrial of the case at a special court in Mumbai.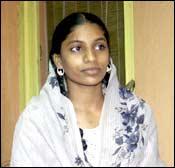 At a press conference, Zaheera Sheikh said she had filed an affidavit before the collector of Gujarat's Vadodara district "seeking protection from Teesta Setlvad and others of her NGO while testifying in the retrial".
Also Read: Reopen Best Bakery case, says witness
                     Complete coverage of the Gujarat riots
"Zaheera has filed an affidavit and we are looking into the matter. She has said that her original testimony before the fast track court in Vadodara was absolutely true and that Teesta was pressuring her to name innocent persons as accused during the retrial," Vadodara Police Commissioner S K Sinha said.
Zaheera said she was "forced into making false statements by my own people from Vadodara at the behest of Teesta".
Also Read: Why did Zaheera have to lie?
She also denied ever meeting Bharatiya Janata Party legislator Madhu Shrivastav before the trial in Vadodara.
She had earlier alleged that Shrivastav had threatened her against stating the truth before the fast track court.
She also said that the judgment passed by the FTC Judge H U Mahida was "correct".
The Best Bakery case was the first post-Godhra riots case to be transferred for retrial to Mumbai by the Supreme Court.
Zaheera was the key witness and it was she who had moved the SC seeking a retrial outside Gujarat.
Following her petition, the SC had ordered transfer of the case to a Mumbai court and also rapped the Gujarat government regarding protection to riot witnesses.
Asked about the petition filed by Teesta in the SC regarding the case, Zaheera said: "She had drafted the petition in English and had told me that it was regarding the Best Bakery property and got my signature in it. I was not even aware that she was filing a petition in the Supreme Court."
On being asked if she did try to approach the Mumbai police after she was allegedly threatened by Teesta and others, Zaheera said: "We had approached Victoria Terminus police but they did not file a complaint and we were threatened by her men when we stepped out of the police station."
Asked about the judgement of the fast track court in June 2003 acquitting all the 21 accused, Zaheera said: "It was perfectly right... I have no doubts in it."
She said she did not want to lie any further "as it is the holy month of Ramzan".
Zaheera said she, her mother Sherunissa, her two brothers Nasibullah and Nafitullah, along with their two children had "fled from Teesta's custody" in Mumbai.