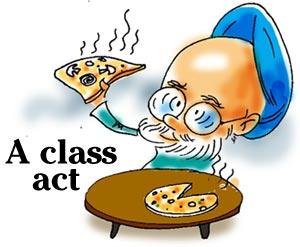 It was an unexpected encounter.
We were enjoying our pizza at a Pizza Hut restaurant in London in April 2003 when Dr Manmohan Singh and his wife walked in and sat a few tables away from us. 
I never thought I would meet a person of his stature in a Pizza Hut. There was no fanfare, no VIP seating, no press! Just a husband, dressed in simple clothes and a blue turban, having a meal with his wife.
I really wanted to go and shake his hand.
When the urge to do so became too strong to resist, I went over to his table and introduced myself as a huge fan.
He was extremely cordial. He even asked me a few questions. I requested him to sign an autograph and he obliged.
We are really lucky to have Dr Singh as the prime minister of India. As a human being, he is a class apart and I am sure he will bring that same class to the process of governance in India.
Amol Nirgudkar
CPA, Reliance Consulting, LLC
Tampa, Florida

Dr Singh: A man for the country
Our president and prime minister have something in common -- they are great academics.
I have met Dr Manmohan Singh several times.
He is very knowledgeable and very interested in whatever he is doing.
I work for the Indira Gandhi Institute of Development Research, of which Dr Singh is a founder member. He used to visit our institute now and then to deliver lectures.
He is a very simple person and has no ego.
When he was finance minister, our chief administrative officer had gone to pick him up from Mantralaya.
His car had developed a problem and the authorities were trying to replace it.
This was taking too much time, so Dr Singh simply walked out of Mantralaya and took a taxi to the institute with his secretary, protocol officer and our CAO.
Later, when he was a member of the Rajya Sabha, he would stay at the institute's guesthouse. Unlike other ministers and MPs, he never created any kind of fuss or problem.
After having witnessed his simplicity and his willingness to do something for the country, I believe corruption will definitely decrease.

K S Mahesh
Accounts department
Indira Gandhi Institute of Development Research
Mumbai
A passion for payesh
I met Dr Manmohan Singh in 1986 when he was chairman of the Planning Commission.
He was on his way to Geneva and had stopped over to visit his daughter, Upinder (who now teaches history at St Stephen's College, Delhi). Both of us were Dutch government Fellows and were sharing an apartment in Oegstgeest.
Upinder told me he was diabetic but loved payesh (kheer). He was very happy when I offered him some.
I know from my days with Upinder that she comes from a very honest family. Dr Singh is internationally known as an intellectual. India needs more politicians like him.
I wish Dr Singh a very successful prime ministership,
Bhaswati Bhattacharya
Institute Kern
Leiden University
Holland
This century belongs to us
I met Dr Manmohan Singh as a student of Indian Institute of Foreign Trade, New Delhi.
He was then the finance minister and had been invited as chief guest at our annual college festival, Tradewinds.
He arrived 11.30 am sharp. On behalf of the students, I presented him with a bouquet. It was a great moment in my life.
Dr Singh spoke for 30 minutes on the topic, Brand India: What It Should Mean To The World. Every person in the hall was spellbound by his vision and thought.
His lecture left us -- as students of international business and future torchbearers of 'Brand India' in the international market -- charged to take on the world. After he finished, the applause went on for almost five minutes.
A spontaneous thought entered my head: Why can't such a person be India's prime minister?
Today, that dream has come true thanks to the Indian voter. This century now belongs to us.
Shankar Gupta
Deputy general manager, International business
Associated Capsules Group
HAVE YOU READ?
'Dr Singh is too good for today's corrupt world'
A thorough gentleman
Saving the taxpayer's money
Dr Singh's autograph
'I have to give something back to society'
Dr Singh: Upright and conservative
Have you met Dr Manmohan Singh? Share your experience with us until Wednesday, June 2. We will not longer be accepting contributions to this section after June 2.
Illustration: Dominic Xavier