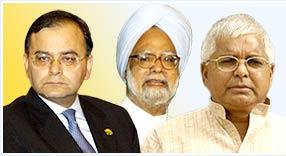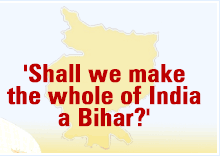 Along with Pramod Mahajan, former federal law, justice and company affairs minister Arun Jaitley was seen as one of the Bharatiya Janata Party's main election strategists.
Jaitley, along with Gujarat Chief Minister Narendra Modi, coordinated the BJP's campaign during the state assembly election in December 2002, a campaign that saw the BJP return to power in the western Indian state with an unprecedented majority.
Last December, he was closely involved with the party's election campaign in Madhya Pradesh, which again resulted in a stunning victory for the BJP.
So Jaitley was just as surprised as the rest by the turnaround of Election 2004.
Now that the heat and dust of the campaign has settled somewhat, the senior Supreme Court advocate and BJP spokesman agreed to analyse the outcome in an exclusive interview with Contributing Editor Sheela Bhatt.
This interview first appeared in the May 28 issue of India Abroad, the newspaper owned by rediff.com:
What went wrong, and why?
Elections are all about the expectations of people. Expectations were high and getting 138 seats is far below expectations.
I can give you only a preliminary view of what went wrong. Every election is a continuous education for politicians. This election taught me two significant lessons, which were not part of my electoral knowledge. It's a cynical view, but realistic too.
In Indian elections, when you conduct a campaign, you invariably succeed on a campaign of negativism. The [A B] Vajpayee campaign in Delhi, the (Chandrababu) Naidu campaign in Andhra, and the [S M] Krishna campaign in Karnataka were identical. All three campaigns claimed that we have done a good job. All three campaigns said our leaders have a positive image and they presented a vision of India. All three campaigns were positive.
As against this, if you conduct a campaign with an element of negativism, as it happened in 1977 and 1984, it clicks. In 1977, post-Emergency, when Mrs (Indira) Gandhi's decline started, there was an element of negativism, people voted against the Emergency. In 1984, people voted against the killing of Mrs Gandhi.
I do distinguish Naveen Patnaik's campaign in Orissa. Even though he was a chief minister, people saw him as an honest man. He came out as an honest crusader fighting his dishonest rivals. He even sacked his own people, his own MLAs and MPs who were perceived as dishonest. He created a villain and injected an element of negativism. I hate to say this, but except for some patches, in the present election campaign negativism carried more weight amongst voters.
What was the Congress party's negativism?
They only had a campaign full of negativism. 'This is a government of scams. It is selling national assets in the form of divestment. NDA has failed on the economic front.' Though the campaign was vague and devoid of specifics, it didn't carry any positive issue. It didn't give any positive agenda to the nation, didn't give a leader or positive alliance.
What is the second lesson you have learnt?
Post-election atmosphere apart, I think there was a pro-Vajpayee mood in the country. Every opinion poll suggested that he had a rating in the range of 60 percent and his nearest rival was in the range of 25 percent. Why did this Vajpayee wave, or Vajpayee breeze, not reflect in voting?
India has become a truly federal state. In that federal polity, when the state trend is in consonance with the national trend, it will reflect itself strongly. It happened in Punjab, Karnataka, Rajasthan, Madhya Pradesh, and Chhattisgarh. Where the state trend is negative, the national trend will become invisible.
Earlier, when Mrs Gandhi was assassinated or the Emergency was imposed, the national trend would always pull out the state, but now it has divided results. Now you can lose 50 seats in the major states of Tamil Nadu and Andhra Pradesh because the local trend is affected by alliances or anti-incumbency. Caste polarization overtook national issues in 30 to 40 seats of UP and Bihar. So what should have been 280 to 290 became 185.
How do you explain Bihar and the success of the Communists?
In India, when the BJP and the Congress party contest an election after remaining in power, they need a major political performance to get back into power. Not so for regional parties. So if Digvijay [Singh] or Krishna doesn't perform, they will be shown the door.
But Bihar, UP and West Bengal are exceptions. In UP and Bihar, the Rashtriya Janata Dal, Samajwadi Party, and Bahujan Samaj Party have caste as a fallback even though they don't perform. Even when they don't do their jobs well, their caste remains consolidated. Caste-based voting is not performance-centric.
The Left Front has cadres, which has helped them to de-link the election and government performance in West Bengal. Also, the Congress party, BJP and Trinamool Congress divide votes and benefit the Leftists. These three parties can't unite against the Leftists. Kerala is a revolving door where two groups are keeping power alternatively.
Did the India Shining campaign boomerang?
I absolutely disagree. Even now I think that campaign gave a sense of confidence in the [growing] economy. It helped build an image outside India about India. Those who think that campaign should not have been done should first analyze the strengths of the Indian economy as we have left it.
But the poor felt they were left out.
I think that is juvenile analysis. Not mature analysis. The poor of Punjab, MP and Karnataka or Rajasthan didn't think they have been left out. The election was not decided one side or the other on the basis of one slogan, but because of a combination of several regional reasons. In Tamil Nadu and Andhra, where we lost 57 seats, people didn't go against us because of the India Shining campaign, but because of the local situation.
Why did the Vajpayee card not work?
As already explained, where regional factors prevailed national factors got diluted.
What were the turning points of this election?
The last six years of NDA rule changed a lot. It changed the governance agenda. Economy became the center point of governance. The common man started talking about GDP and growth rate, export figures and infrastructure creation. We are now speaking in these terms.
We did well, but we went out because of various political factors. But we went out with a sense of dignity and not with a sense of distress that since we haven't performed, we are voted out.
The turning point has already arrived. Now, what I'll hate to see is a debate -- are reforms politically costly? Is there a cost to reform because it will have political fallout? Shall we make the whole of India a Bihar? Shall we create caste issues or any such fallback systems to win elections, but not performance? I think it's not desirable for India if this debate will decide that since reforms are costly you abandon them. We will go the Bihar way.
We are in for somewhat chaotic times. I send my best wishes to Dr Manmohan Singh. But knowing the character of the Congress party they have a daunting task before them. Dr Singh started an innings after being clearly told, and he is reminded of this everyday, that, 'You are not the party's first choice.'
The dignity of the prime ministerial office, the level of its responsibility, the level of its accountability, is so high that we have to make sure that Indian prime ministers, irrespective of party, are able to maintain that dignity.
I do hope that Dr Manmohan Singh's stature and intellectual ability will help maintain it. I see the problem for him will come from within. Yesterday (May 20), his party leader Mani Shankar Aiyar said on CNBC, 'Mrs Sonia Gandhi is a queen and she has appointed Dr Singh to do some governmental work.' Now, if this is how the Congress party is going to demolish the office of prime minister, then Dr Singh will have a problem with governance.
I hope there will be only one power center. In a lot of situations there is a possibility of Mrs Sonia Gandhi, Harkishen Singh Surjeet, Sharad Pawar, Laloo Yadav and M Karunanidhi becoming parallel power centers. That dilutes power and diminishes the dignity of the PM's office.
One must always contest polls with a clear pre-poll alliance. Leaders must be known, agendas must be known, and power-sharing formulas must be known. We are living in an era of alliances. No party is going to get a clear majority. If you don't do pre-poll alliances, you will have the kind of circus we are witnessing since the evening of May 13.
In the first round you have a personality-based saga of brinkmanship. Then there is a huge battle over sharing the spoils. And then there is going to be disagreement over the common agenda. Even if the first two points will be sorted out in due course after roadblocks and hiccups, the third will continue to haunt because of the irresponsible statements of the Leftists.
The Left parties in India have got only 61 seats.
Sixty-one seats in Parliament is not a mandate for the country to turn Left. Merely because they hold the balance, they can't dictate the country's economic policy, because there is no mandate for the Left economic policy.
Lastly, the Congress need not go euphoric over this result.
Why not?
In 1998, when Sitaram Kesri was president of the Congress party, he managed to get 144 seats. In a physical coup he was removed from the Congress Working Committee. They physically threw him out to install Mrs Gandhi. That's how, then, the Congress perceived 144 seats.
Now, Sonia Gandhi has won them 145 seats. So this magic figure of 320 to 330 that they have in Parliament, over 100 have been won defeating Congress candidates or Congress-supported candidates. Therefore it's a fractured mandate in which the arithmetic is completely against us, but is creating complications for them also.
Is India moving toward bipolar politics?
Not at all! The Congress party has the support of 170 non-Congressmen. The Congress party is just 145.
Don't you think you failed because your performance was lacking a human face? Dr Manmohan Singh says he will have reforms with a human face. The NDA was never perceived as pro-poor. Even Pramod Mahajan admitted it.
In terms of symbols and slogans 'reforms with a human face' is an attractive term. But I feel that all development is always pro-people.
When you create rural roads and highways, both rich and poor, Hindus and Muslims, drive on them. These are agendas that are pro-people. Use of phrases and slogans is very easy. Translating them into a substantial gain for the people is a challenge.
What do you think of Sonia Gandhi's stature after she refused to be PM?
As a matter of principle, I and my party believe that a person of foreign origin should never occupy the prime minister's seat in a country like India. We belong to a country that has thousands of years of history and was subjected to hundreds of years of foreign rule. Today, like many in India, I have a sense of relief. Personality-based games and one-upmanship or brinkmanship will take place. It's now left to historians to dissect the reasons why she did what she did.
Why did she do what she did?
I would not like to share [my analysis] at this moment.
When you were law minister, your own ministry quashed the foreign origin issue in court.
It was a case filed in 1999 whether the then President should have called her or not called her [to form the government]. The officer or lawyer who argued it interpreted the Constitution in his own way. It's not that the ministry gave a clean chit.
The Constitution has to be argued on the basis of what it says. At the end of the day whether a person of foreign origin should be allowed to contest an election isn't a subject within the poles of the Constitution.
Hasn't the whole saga made the Gandhi family stronger?
I have not the least hesitation in saying that the Congress party from an ideological movement has reduced itself to a crowd around the Gandhi family. This happened 30 years ago. To a proud Indian it's not a matter of glory; it is a matter for soul-searching.
The BJP will overcome its problems. We will stay on. But the fact is that when the Gandhi family delivers, the Congress is on top, and when the family doesn't deliver, as has happened several times in the past, the Congress party refuses to come to terms with itself.
Do you think it was Sonia Gandhi's masterstroke to not take up the prime ministership?
Whether it was a political investment or a masterstroke are facts that history will decide. There is nothing overwhelming about her act.
Do you think Rahul Gandhi will be your next most formidable opponent?
We will be facing several opponents. I think politics is a game of revolving doors.
What are the factors that instill hope in the BJP?
There is no last date in the calendar of politics.
Photographs (from left to right): PORNCHAI KITTIWONGSAKUL/RAVEENDRAN/PRAKASH SINGH/AFP/Getty Images
Image: Uday Kuckian