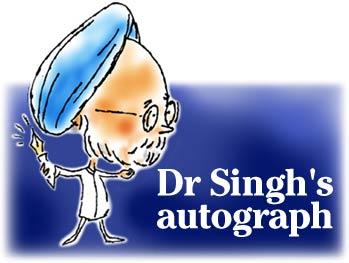 I have seen Dr Manmohan Singh a few times at various airport lounges. Each time, I would make it a point to say hello or get my greeting conveyed to him.
But it is the chance encounter we had on January 24 that, in my mind, ranks as the most memorable.
I look after international business relations for a private company and was catching Sahara Airline's morning flight from Delhi to Chennai to meet an overseas customer who was in the city.
As I boarded the aircraft, I saw Dr Singh seated in the first row of the business class section.
I greeted him, "Good morning Sir."
He was kind enough to respond with a smile as he wished me "a very good morning."
He was accompanied by Mr Kamal Nath.
Later I learnt from media reports that he was visiting Chennai to meet [Dravida Munnetra Kazagham leader M] Karunanidhi the same evening; they were going to talk about a pre-poll alliance.
During the flight, I asked the airhostess if she would ask Dr Singh to sign my boarding pass. She returned very soon with his autograph.
It was an example of the man's humility. He was busy in conversation with Mr Kamal Nath during the three-hour flight, but he also seemed very relaxed and took the time to oblige a stranger with an autograph.
I am so proud and happy that he was sworn prime minister on May 22.
I want to wish his government all the very best.
R K Sharma
General Manager
Anu Products Ltd
Delhi
Honest to the core
I have never had the privilege of meeting Dr Manmohan Singh, but I have heard of his honesty from my friend Leela Tankha, who is his samdhan. Her son is married to his daughter.
This is about an incident that took place when Dr Singh was finance minister. She had gone to visit him, but he did not use the office car to drop her home. Instead, he paid her taxi fare.
It is great to have such an honest person as our prime minister. He will never use official benefits for his family.
Neena Pawar
Assistant manager, Air-India
New Delhi
It takes an honest man...
It was one of those dinner meetings in New York.
This one, to which I was also invited, happened to be held at New York's Maurya Restaurant two years ago.
Dr Manmohan Singh was there as well.
When I met him, I introduced myself as the nephew of Mr Takhat Ram. My uncle, who had worked with Dr Singh, has now retired as the joint chief controller of imports and exports, ministry of commerce, Government of India, New Delhi.
The moment I mentioned my uncle's name, he immediately smiled and said they -- my uncle and Dr Singh -- had worked together for many years. He added that my uncle was known for his intelligence and his dedication and honesty in discharging the government's responsibilities.
I will never forget that brief meeting with him.
Krishan K Arora
B R Fashions USA, Inc
New York

Soft-spoken
I met Dr Manmohan Singh when he was honoured with the K S Hegde Memorial Award in Mangalore, Karnataka.
He is a very soft-spoken man.
I was involved in the whole programme and had an opportunity to chat with him for some time.
He also signed an autograph for me.
I look forward to a better India under his leadership.
Ajumon Zacharia
Senior systems administrator, Merrill Lynch
New Jersey
HAVE YOU READ?
'I have to give something back to society'
Dr Singh: Upright and conservative
Have you met Dr Manmohan Singh? Share your experience with us.
Illustration: Dominic Xavier