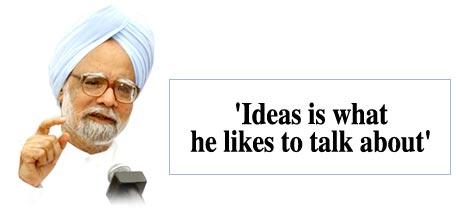 Nearly thirteen years after he was elected to the Rajya Sabha from Assam for the first time, many may have forgotten the storm it created in the state but one person still remembers the uproar very clearly.
Hemoprava Saikia, widow of the then Assam chief minister, the late Hiteswar Saikia, is elated today that her tenant, Dr Manmohan Singh, is India's prime minister-designate.

"I can't express my feelings in words, I am really very happy," she said moments after Dr Singh was elected Congress Parliamentary Party leader on Wednesday.

Hemoparva Saikia, now a cabinet minister in the Tarun Gogoi government in Assam, was a simple housewife when her husband invited Singh to be a Rajya Sabha member from Assam in October 1991.
"Since no other seat was vacant at that time, my husband invited him to contest from here," she recalled.

"There was a huge uproar in the state for bringing in an outsider to represent Assam, but my husband was firm," she  remembers.
"We also knew that no one would rent out a house to Dr Singh for fear of retribution from trouble-makers so we offered part of our home to him so that he could have a local address. Since then, he has been a tenant in our Sarumotoria (a locality close to the state's administrative capital Dispur) home, house no 3989 at Nandan Nagar. We still receive rent from him," Hemoprava Saikia said.

Describing Dr Singh as a "very gentle, soft spoken, and sincere person," she recalls that he took a lot of interest in getting Assam back on the track of development.
"He was very honest in admitting that he knew very little about Assam or its people before he became an MP from here, but he has more than made up for his lack of knowledge or interest since then. I personally know that he has initiated many schemes for people's benefit and he has always been at hand whenever the state or its people faced a problem in Delhi," Hiteswar Saikia's widow says with obvious pride.

Another person who has worked very closely with India's prime minister-designate is A K Absar Hazarika, the current district magistrate of Guwahati metropolitan district.

Hazarika, an Assam Civil Service officer, was additional deputy commissioner of Kamrup district in 1991 when Dr Singh was first elected to the Rajya Sabha. He recalls: "The first thing that struck me when I met him was his simplicity. There were no hangers-on around him and the basic courtesies that he had for even the junior-most employee. After all he was India's finance minister but he had absolutely no airs about him. He discussed with us his plans for development of Guwahati city even when the scheme of having the MP Local Area Development Fund was yet to be established. After the concept of MPLAD Funds came in 1994, Dr Singh has supported and spent almost Rs 15 crore (Rs 150 million) on 111 different projects," he said.

Hazarika, who has overseen most of his projects recalls that Dr Singh hates small talk and gossip. "I have never ever, in my 13 years of association with him, heard him speak about individuals or discuss anyone behind his or her back. Yes, ideas is what he likes to talk about. Ideas of development, ideas about creating facilities that would help students, the poor and the underprivileged. And that is clearly reflected in the kind of schemes his MPLAD Funds have supported," the official recalls.
 
The list of varied projects undertaken and implemented during the three consecutive terms of Dr Singh ranges from construction of buildings for educational institutions across the state, indoor stadiums, drinking water scheme, children's park, and many others.

It was in 1998-1999 that the science building at the city's B Barooah College came up with Rs 26 lakh provided by Dr Singh. Some other schemes recommended by Dr Singh include the hobby centre-cum-reading room at the Guwahati University, construction of the building of Guwahati Commerce College, development of Sankardev Park along the river Brahmaputra in the city, setting up of blood bank at MMC Hospital in 1999-2000, construction of fishery-cum-park at Mon Vikash Kendra (a centre for handicapped children), construction of the building of Assam Science Society, construction of Botanical Garden at Dibrugarh University, PG Study Building at JB College, Jorhat, construction of Amateur Hall at Golaghat, etc.

Clearly, Assam has benefited immensely by electing Dr Manmohan Singh as a Rajya Sabha MP thrice in succession. Today the state and its people are proud to have him as India's next prime minister.
Photograph: RAVEENDRAN/AFP/Getty Images
Image: Uday Kuckian