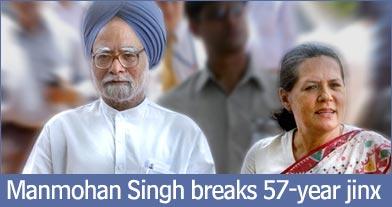 The choice of Manmohan Singh as prime minister lays to rest a deep-rooted superstition of Indian politics: that no one whose name does not posses the letter 'r' can become prime minister.
Manmohan Singh, the name he has used all his life, and the name with which he has achieved fame and success, clearly has no 'r.' Neither does the name Sonia Gandhi, but some traditionalists might argue that as a true Indian nari, her full name would have read Sonia Rajiv Gandhi. Many Indian women, especially south of the Vindhyas, incorporate their husband's name as their middle name. This, however, is not the practice in North India, in which case, had Sonia Gandhi become prime minister, she too would have broken this superstition.
While south of the Vindhyas men use their father's name as the middle name, those in north India either have a second name or use the village or caste name. Sikhs traditionally use their village name (in Manmohan Singh's case, he was born in the village Gah, now in Pakistan, and which does not have the letter 'r'). Many Sikhs also use their caste name but Sikh tenets explicitly ban caste and many Sikhs refuse to acknowledge their caste.
Manmohan Singh, a modern, liberal individual, obviously had no use for something as obscure as a caste name and never referred to it.
To India and the world, he was just Manmohan Singh and in becoming prime minister, he has broken the superstition and given hope to all prime ministerial aspirants who don't have the letter 'r.'
A list of our prime ministers. Check where the letter 'r' figured:
Jawaharlal Nehru
Lal Bahadur Shastri
Indira Gandhi
Morarji Desai
Charan Singh
Rajiv Gandhi
Vishwanath Pratap Singh
Chandra Shekhar
P V Narasimha Rao
H D Deve Gowda (the closest India ever came to a prime minister without the letter 'r' except for the fact that the first two initials stood for Hardanhalli Doddegowda)
Inder Kumar Gujral
Atal Bihari Vajpayee
This superstition was so strong that it was rumoured within the BJP, Murli Manohar Joshi believed it was his astrological right to succeed Vajpayee rather than L K Advani. The latter's initials stood for Lal Kishenchand, thus without an 'r.' 
Advani, interestingly, listed his name as Lal Krishna Advani. That his how his nameplate outside the home ministry read.
Another person who should be happy will be Mulayam Singh Yadav, without a single 'r' in his name. Yadav was pipped to the top post in 1997 by Gujral in what was a clear surprise then. Now, with this superstition broken, perhaps he has a chance in future ahead of fellow Yadav, Laloo Prasad!
Many believe the same superstition applies to becoming President of India. All Presidents till date, save one, have had the letter 'r' in their names. The exception was Giani Zail Singh, but even here, some would say the superstition holds true because the name Zail is a corruption of the name Jarnail, though this President was known as Giani Zail Singh!
Coincidentally, Zail Singh was also a Sikh. So the question now is: Are only Sikhs exempt from the letter 'r'?
Image: Rajesh Karkera