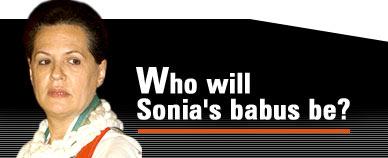 Congress Parliamentary Party leader Sonia Gandhi has crossed many hurdles and may become the prime minister of India.
Many important tasks lie ahead of her but the most pressing one is the selection of her Cabinet.
Next, she will have to concentrate her attention on deciding who will be her advisors in the bureaucracy.
The Cabinet Secretary is immune to changes in government; he can continue in his post till his retirement.
As per tradition, Brajesh Mishra will resign as the principal secretary to the prime minister and as national security adviser. She will have to select his replacement/s.
A list of retired and serving bureaucrats who are close to her or to her party, the Indian National Congress.
Sonia will most probably make her choice from within this list.
Naresh Chandra, former Cabinet Secretary and former Indian ambassador to the United States, among the many distinguished posts he has held.

Montek Singh Ahluwalia, former finance secretary, now Executive Director, World Bank.

Moni Malhoutra, IAS (retired), presently director, Rajiv Gandhi Foundation.

Gopi Arora, IAS (retired), member of Prime Minister's Office in Rajiv Gandhi's time.

A N Verma, IAS (retired), principal secretary to then prime minister P V Narasimha Rao.

M R Sivaraman, IAS (retired), revenue secretary in the Narasimha Rao government.

K Padmanabhaiah, IAS (retired), former home secretary, currently, the government's mediator on the Naga issue.

Maharaj Kumar Rasgotra, IFS (retired), former foreign secretary.

J N Dixit, IFS (retired), former foreign secretary.

Rannen Sen, IFS (retired), member of Prime Minister's Office in Rajiv Gandhi's time; recently retired as high commissioner to the United Kingdom.

M K Narayanan, former director, Intelligence Bureau.

Wajahat Habibullah, serving IAS officer, currently with the Institute of Peace, Washington, DC.
J N Dixit and M K Rasgotra are likely to get plum postings.
Sources say Gandhi is likely to use the services of Naresh Chandra and/or Montek Singh Ahluwalia and/or Moni Malhoutra in the PMO.
She will also have to decide whether the present heads of the Intelligence Bureau, the Research & Analysis Wing (India's external intelligence agency) and the Central Bureau of Investigation should continue.
The IB should not pose a problem since K P Singh, the present director, is due to retire on August 31. It is only a question of waiting for four more months.
The present heads of R&AW and the CBI have at least another year to go.
She may not disturb Uma Shankar Misra, director, CBI. If she does, there could be allegations of her wanting to interfere in the Bofors inquiry.
But there is a big question mark over the continuance of R&AW chief C D Sahay.
Photograph: RAVEENDRAN/AFP/Getty Images
Part II: Sonia: The road ahead