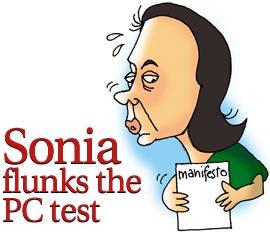 Stepping into the water may be the best way to learn swimming, but nearly seven years after she took the plunge Sonia Gandhi continues to be a novice in politics.
The Italy-born president of the Congress can barely explain the party's stand on various economic and political matters, and still finds it hard to handle PCs [journalese for press conferences].
Her lack of intellectual wherewithal was on vivid display once again on the day the Congress election manifesto was released at the party headquarters.
Gandhi sat flanked by former Union finance ministers Pranab Mukherjee and Manmohan Singh. After the preliminary statement, which she duly read out, the floor was thrown open to questions. And Gandhi fumbled and faltered, responding in monosyllables or unhelpfully short single sentences.
Asked why son Rahul had been named the party's candidate in Amethi and not Rai Bareilly, Sonia Gandhi merely said the latter constituency was once represented by her mother-in-law and before that by her father-in-law, the late Feroz Gandhi, and so she and her children decided that she should contest from Rai Bareilly. The obvious follow-up question -- does she regard herself as an inheritor of Indira and Feroz Gandhi's legacy -- was ignored.
Likewise, there was no convincing reply to the question why she had chosen Rahul to enter the electoral fray and not Priyanka or both. Did it mean Rahul had been anointed successor to the family's political legacy? Response: No, it is not true. It will be wrong to say this. Period.
But it was her failure to elucidate the claims made in the party's manifesto that exposed Gandhi's lack of understanding of economic issues. The Congress manifesto promises to create ten million new jobs every year, just like the National Democratic Alliance's manifesto had done in the last election. A questioner asked how the Congress intended to achieve this. Her answer was all of three words -- "by accelerating growth."
When a reporter asked which policies of the Atal Bihari Vajpayee government her party would discard if it came to power, Gandhi pointed towards Mukherjee. Another question about divestment was likewise referred to Dr Singh.
But if there is one thing you have to give Gandhi credit for, it is effort. She comes fully prepared with notes to every press conference. Her backroom advisers, including her children, brief her completely. Further, friendly scribes are primed to ask questions so that she can come up with rehearsed answers.
Yet, she lacks the understanding and confidence to field questions. No wonder her conduct invariably leaves senior Congress politicians exasperated. Of course, in front of her they feel obliged to commend her on an 'excellent job done.'
Government wins grudge match
The Supreme Court in its wisdom wanted former bureaucrat Bhure Lal to eat his cake and have it too. But the government willed otherwise. Now Lal, who retired as secretary to the government late last year, will have to forgo his membership of the Union Public Service Commission.
The government wanted Lal to resign as chairman of the court-appointed environment committee before joining the UPSC because it believes the former is an office of profit and hence violates constitutional norms.
But Lal was keen to do both jobs simultaneously. So, when the personnel department made it plain that he would have to settle for one or the other, he left the environment committee reluctantly. The government proposed the name of another senior officer, a specialist in environmental matters, to replace Lal.
But the apex court would have none of it. It ordered that Lal join the UPSC while continuing as chairman of the environment committee.
But a few days ago the government rescinded the order appointing Lal to the UPSC.
Now, the question is whether a court can force a citizen, any citizen, to chair a committee against his will. Lal insists his resignation as chairman was turned down by the court.
A redundant road show?
On the very first day of its opening, the initial public offering of the state-owned Oil and Natural Gas Corporation was

oversubscribed several times. In fact, Arun Shourie, the minister for divestment, claimed that it was oversubscribed in 11 minutes flat!
But a day later a high-powered team of bureaucrats and ONGC officials took off for the US and the UK, ostensibly to participate in roadshows being planned in major centres there to sell the IPO! Among those on the junket were the Union finance secretary and his divestment ministry counterpart.
Now, what could be the justification for undertaking this venture?
Whatever the merits of Shourie's 11 minute claim, he was wrong on one count. Legendary US investor Warren Buffet did not invest a single paisa in the ONGC scrip.
Promoting the party

The BJP clearly does not believe in practising what it had been preaching when it was condemned to sit in the Opposition.
Minor BJP functionaries act as chief censors of the government-controlled electronic media to ensure that only Sangh-friendly persons find exposure on radio and television. Or only those who come as supplicants to their door are offered lucrative contracts for programmes on Doordarshan.
But so ingrained is the streak of intolerance in the mental make-up of the saffron brigade that some of them have had the temerity to try and browbeat newspaper owners, telling them which columnist to publish and which to discard. Naturally, anyone critical of their misdeeds attracts their wrath and they press the papers not to publish him or her anymore.
A minor scribe-turned-BJP MP, who flaunts his proximity to Deputy Prime Minister L K Advani, has taken upon himself the task of blacking out from print and television all those who expose his and other BJP leaders' acts of omission and commission.
In bad taste
The rate at which political parties are using SMS [short messaging service, for the uninitiated] to woo voters, the Election

Commission might well consider monitoring the contents for personal attacks and validity of claims and counterclaims.
For instance, what do you make of the following one which clearly originated from a BJP sympathiser. A takeoff on the marital status of rival leaders, the text runs as follows: Kaun Banega PM? Sonia jisne shaadi ke liye desh chhoda; ya Atalji jinhoney desh ke liye shaadi chhodi? Aap hi sochiye! [Who will become the PM? Sonia, who left her land to marry the man she loved, or Atalji who did not marry for the sake of the country?]
Illustrations: Uttam Ghosh