Russian President Vladimir Putin on Monday won a second four-year term in office defeating his nearest Communist Party rival Nikolai Kharitonov and immediately announced his intention to further consolidate partnership with India and China.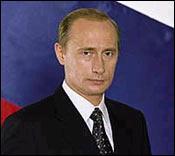 The 51-year-old former KGB agent, whose re-election was a foregone conclusion, went on television to thank the people for supporting him and said he would defend democratic principles and a free media while pursuing a foreign policy based on compromise rather than 'imperialistic ambitions'.
"We will not stop with our accomplishments and will strengthen a multi-party system. We will strengthen civic society and do everything to ensure freedom of mass media," Putin, who captured 71.2 per cent of votes defeating five challengers, said. His closest rival Kharitonov received just 13.7 per cent of the total votes.
"The goal of Russian foreign policy is not the demonstration of imperial ambitions, but creation of favourable external conditions for the development of Russia.
"We will build a multi-vector foreign policy, work with the US, Europe, with our Asian partners China and India, since Russia is a European as well as an Asian nation," Putin said.
Addressing a televised news conference early on Monday, Putin thanked his countrymen for their support and attributed his victory to his 'intensive and honest' work in the first four-year term.
Putin expressed confidence that with the help of new foreign minister Sergei Lavrov, who has a decade long experience of working in the United Nation, and his predecessor Igor Ivanov, now Secretary of the advisory Security Council, he will be able to evolve effective mechanisms to pursue this goal.
Putin vowed to preserve the democratic achievements of the recent years and ensure freedom of press in the country.
On the domestic front, he would strive to develop a genuine multi-party system in the country and advance economic reforms by adopting the 'golden, middle path'.
He would shortly announce his priorities and a shake up in his Kremlin administration.
When asked about his successor, Putin said he had started the search for that person four years ago. "He has to be a decent and honest person, willing to serve his country. In Russia, we have so many of them," he said but stopped short of taking names.
At the end of his second term in 2008, he resolved not to leave the country beset with problems that could not be solved through joint efforts.
Putin, who has sent Russia's richest man, oil baron Mikhail Khodorkovsky of Yukos, to jail allegedly for embezzlement of state funds and tax evasion, declared that in his second term he would build relations with business on the basis of stability, transparency and law.
Earlier, in Washington, Secretary of State Colin Powell said the US 'is concerned about a level of authoritarianism creeping back in (Russian) society'.
The remark set off an angry rebuke from the Russian Cabinet's chief of staff and a calmer retort from Putin, who said the 2000 US presidential election fiasco had exposed its weaknesses. Some 'see the splinter in another's eye ignoring the log in his own', Putin said.
Russia will consider the criticism and 'if we think there is something to think about, will draw the corresponding conclusions', he added.
This will be his second and final 4-year term in the top post. He had succeeded Boris Yeltsin in 1999. The election commission is to formally declare the final results of Sunday's presidential polls on March 25.