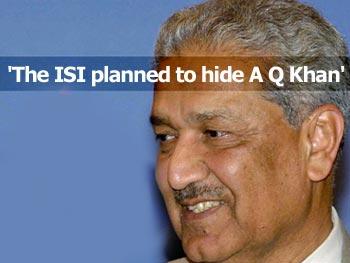 Benazir Bhutto has had a ringside view of the growth of Pakistan's nuclear programme, as daughter of the man who was its initiator and, later, as prime minister on two different occasions.
When her father, the late prime minister Zulfiqar Ali Bhutto, decided to pursue the bomb, his intention was to compete with and match the 'arch enemy' -- India, though that was not how the world perceived it. The bomb was seen as an 'Islamic bomb'. And, as Benazir admits in the fourth part of her exclusive interview with rediff.com Senior Editor Shyam Bhatia, she herself may inadvertently have given some of the proliferators in Pakistan a link to the international nuclear black market.
Part I: 'Zia wanted to defeat America'
Part II: 'Pakistan had the bomb by 1989'
Part III: 'I felt I was a victim of a conspiracy'
Between 1993 and 1996 you did not authorise the revival of 95 percent enrichment?
No, no. They had given a commitment of 5 percent and they kept it at that. Although our commitment was at 60 percent. Because they had brought it to 5 percent, we kept it for confidence because we always felt that the way to safeguard the programme was through international confidence and that if the world was frightened of a Muslim bomb...  in the case of India, India was not going to export it to another country because India wanted it for itself. There was no Hindu civilisation of pan-Islamic view.
In the case of Israel they were not going to give it because there was only one Israel. But in the case of Pakistan there was always a fear that it is going to turn into a replicating bomb that will be used in a series of countries. So there was a much greater fear about our bomb, or perhaps there was a greater fear about Muslims because half the problems are in the Muslim world.
I don't know what was the fear in the world community, or maybe it was because of Israel. I can't say, but I can say there was a great deal of insecurity. At the same time, having nuclear status was a matter of security for Pakistanis and, sadly, though it was a weapon of mass destruction, it was a matter of pride because people felt we were as good as India. India had developed one, we had developed one. If their scientists are good, our scientists are equally good.
So the bomb reassured the national psyche?
In that sense it covered two aspects of the Pakistan national psyche and for a country that had been disintegrated and had gone through the horrors of Partition and considered Kashmir under occupation, this was a saving grace, that we can compete equally with India.
Is it possible that rogue elements assisted by the Pakistan military and jihadis started playing around with the nuclear programme from 1990 onwards?
It is possible, but not probable, for certain reasons. In 1989 I learned from one of the journalists who was tied to the elements trying to overthrow my government that those elements were basically the intelligence, the ISI [Inter-Services Intelligence]  people and MI [Military Intelligence]. They were trying to overthrow my government, but these people had some journalists very close to them. One of them planned to take A Q Khan to a Muslim country and keep him there.
They told him they would take him on a pilgrimage -- it's not Saudi Arabia -- they would go for a pilgrimage and keep him there. I saw this as an attempt to embarrass me by suggesting that Benazir Bhutto is anti-Pakistan and she's a security threat and she's responsible for the disappearance of our nuclear scientist. So I passed orders that no scientist could leave the country without government permission. And security guards.
That means such scientists could never leave the country without the government's explicit knowledge?
There was one other thing I may have inadvertently done [and that] was introduce them to the international blackmarket. At that time my parliamentarians would come to me in Parliament House and say they had been approached by Russian scientists wanting to sell enriched uranium, this was in '89-90. There were Soviet scientists who were starving, they weren't given their salaries, they were poor, they wanted to meet me and I didn't want to meet them.
They approached the government, parliamentarians, so here they come and tell me, 'We don't have to worry if we can't make uranium, we can buy uranium. Okay?'
I thought it was a trap set up by the intelligence. So I then sent them to the ISI to investigate.
Unfortunately, if it was not a trap, I introduced the ISI to the network.
I sent the information to the ISI and I never got a report back. I assumed it was a trap because I never got a report back. I remember this incident because it didn't happen just once.
The first time I said 'no, no' and thought it would die. But it was persistent and when it was persistent I sent it to the ISl to investigate.
Is this the time Khan started going to Libya and Iran?
Probably not Libya. I don't know, we need a full investigation to see whether the president changed the policy or the army chief defied the intelligence, or the intelligence defied the army chief, or whether elements of the intelligence bought over by Al Qaeda joined up with the scientists. We don't really know, all this is possible.
So barring an investigation, my suspicion is that Iran happened between 1990 to 1993.
Where does Libya fit in?
Libya comes much later when I was overthrown a second time. Either they offered it to them then or maybe they offered it in my first term, I don't know. But in February 2000 Musharraf went to Libya. In July 2000 Musharraf's commerce minister and friend took out a full page ad offering nuclear related products for sale.
The A Q Khan brochure was also made then. What happened was that in 1998 we detonated the nuclear device. I was expecting to be called by Nawaz Sharif and I was expecting to be asked for my advice on how to deal with the situation. I thought it was time for Pakistan to take the moral high ground by opening its laboratories and doing a cold test in front of everybody to say, 'See, we are a nuclear power', but not doing a hot test. But nobody asked for my views.
Part I: 'Zia wanted to defeat America'
Part II: 'Pakistan had the bomb by 1989'
Part III: 'I felt I was a victim of a conspiracy'
Part V: 'Musharraf must explain why he visited Libya'
Image: Uttam Ghosh