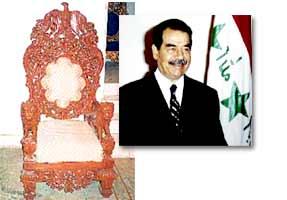 He still believes that one day Saddam Hussein will sit on the throne made by him.

When television channels across the world were beaming images of the deposed Iraqi president's capture by American troops, Mukhtiar Singh locked himself in a room. And he did not eat for three days.
Singh was not the former president's aide or a beneficiary of the erstwhile dictator's regime. He is a carpenter who had stuck a 'special friendship' with Saddam and Iraq.

The intricately carved silver-coloured teakwood throne sits ensconced in a special glass case at his showroom -- Aashiana -- in Kirti Nagar market of Delhi.
"I made this throne for Saddam Hussein. I will give it to him when I meet him," says Singh, who is also chairman of International Sikh Council. He has firm faith that Saddam will be released one day.
Singh had offered Saddam to make this throne in 1992. "I completed it in five months. It was gift for him. It was not to be sold. But when the throne was made, crisis started in Iraq and I was not able to send it to him."
"I pray for him everyday. Us ne Sikh dharm ke liye bada kaam kiya hai (He has done a great service to Sikhism," he says
Always clad in white kurta-pyjama and white turban, Singh, 50, has a long association with Saddam. And he stood behind his favourite Iraqi through thick and thin.
Singh's furniture factory is considered to be one of the best in Delhi. A designer of furniture himself, Singh has clients from several countries. But Iraq is special for him.
A graduate of Delhi University, Singh says he appeared for many competitive examinations without success. It was then he started a small furniture workshop in Mayapuri.
| | |
| --- | --- |
| | Also Read |
| | |
"It was a new thing for me. But gradually I developed interest in this field. I started designing furniture and god made it all possible. I will call it god's gift," he recalls.
One afternoon in 1976 the then Iraqi ambassador happened to visit his workshop. Impressed by the quality of work he bought some and sent it to Baghdad.
The Iraqis liked his furniture and soon Singh's business grew and he started exporting furniture to that country on a regular basis.
"People in Baghdad opened showrooms of my furniture. I became a brand name there," claims Singh.

Soon his furniture was brought to the notice of Saddam after the Iraqi ambassador sent him selected pieces from Delhi. Saddam was impressed and invited Singh to visit his palace.
"It was January 23, 1990. I met Saddam Hussein at his palace. He is great human being. A great friend and a wonderful person," recalls Singh. "Five Mercedes cars came to receive me at the airport. I was treated like a king. I was given a special room and coffee in a golden cup."
Singh took a 250-kg wooden lion to gift it to Saddam. "I presented him the small gift I had taken for him," says Singh. Both struck an instant rapport and the scheduled 15-minute meeting went for more than an hour.
The discussion ranged from Iraq's friendly relationship with India, Sikhism in Iraq and Saddam's interest in art and culture.
"I convinced him that Sikhism is the most scientific religion on earth. He was impressed. He knew a lot about Sikh history in Iraq," he said.
At the end of the meeting, Saddam proposed that Singh stay in Baghdad and train Iraqi carpenters. "I refused with much respect but proposed to train 25 Iraqis at my workshop in Delhi. And I fulfilled my promise," Singh says.
But what makes him so nostalgic about the Iraqi president? "He asked me to express a desire. What ever I wanted," says Singh.
Singh requested Saddam to restore and renovate a Sikh religious place called Baba Nanak Maqam in Baghdad. Greatly revered by Sikhs, it was the place where Guru Nanak stayed on his way to Mecca and Medina in Saudi Arabia.
"Saddam immediately ordered the renovation of the shrine. It was like a dream for me. And not just that he kept on communicating with me for so many months about the status of the shrine," says Singh showing the letters that the Iraqi president and ministers had sent to him.

Singh has also preserved the clippings of Iraqi newspapers that carried stories of Singh's friendship with Saddam.
"He (Saddam) has done a great service for Sikhism. We are indebted. We cannot return this debt no matter whatever we do for him," says an emotional Singh.
"Can you imagine such thing in an Arab land? Can a dictator be so large hearted? He is not a dictator. He is a tolerant and secular man. He respects others," says Singh.
Singh recalls that Saddam's cousin always made it a point to meet him whenever he came to Delhi.
Singh's communication with Saddam, and his business started decreasing after the first Gulf War. But Saddam did not forget to invite him for his birthday party in Tikrit.
"It was a wonderful experience for me. It became like my house. People were so friendly and nice to me. They know to respect guests," he says.
The ambassador's visit to his showroom decreased gradually and finally ended as Iraq got entangled in one crisis after another. But Singh kept praying for the well being of Saddam.
"Whenever I remember him, I feel disturbed. It should not have happened," says Singh, recalling the second Gulf War.
And Singh doesn't think too highly of US foreign policies. "Who has give them (US) the right to decide about the fate of other countries? Have they been able to find any trace of weapons of mass destruction?" he asks.
"Only the Iraqis should decide what kind of ruler they want. The change should come from within and not imposed by America or anybody else," he says.
Singh is also equally critical about India's response to the US-led war against Iraq. "Saddam was always India's friend. He had done so much for India but we could not do even a fraction of it for him," he said.
Now that the Baba Nanak Maqam is ravaged like any other building in Baghdad, Singh wants it restored again.

"I appeal to the US President (George) W Bush to immediately renovate the shrine. If they call themselves the protector of democracy then they must show it in action," he says. "If an alleged dictator can do so much, I want to see what America can do."