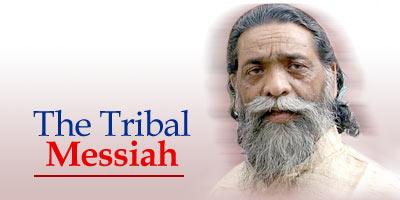 Jharkhand Mukti Morcha chief Shibu Soren has taken risks all his life, and reaped rewards.
But it seems Guruji, as his supporters call him, may soon run out of luck.
The issuance of a non-bailable arrest warrant against him by a court in Jamtara, Jharkhand, in connection with the Chirudih massacre of 1975, forced him to relinquish the coal and mines ministry and go into hiding.
He was looking for a reprieve from the Jharkhand high court, which was hearing a petition from him seeking the quashing of the warrant. But the court did not oblige and asked him to surrender before August 2, which he did.
Also Read: Soren has eyes set on Jharkhand assembly
Soren knows he is on tricky ground. He has detractors in the government. One of them, Rashtriya Janata Dal chief and Railway Minister Lalu Prasad Yadav first advised him against relinquishing his ministerial post. Lalu later changed his mind and said Soren should put in his papers.
Born in Nemra village in undivided Bihar's Hazaribagh district on January 11, 1944, Soren grew up in an atmosphere crackling with anti-establishment spirit.
He worshipped tribal heroes like Tilka Manjhi, who fought the British and was hanged in Bhagalpur jail in 1784, and Birsa Munda, who was stridently anti-diku (outsiders).
"As a child he would move about with a bow and arrow and swear that like his tribal icons, he would not rest until the dikus were expelled from Jharkhand," says Chiniya Mahato, a school friend of Soren who now has a poultry business in Ranchi.
Mahato describes Soren as a temperamental individual, cut to the quick at the slightest provocation.
They studied in Hazaribagh's Gola High School, from where Soren matriculated. Thereafter, the tribal agitation spread to Bihar's southern districts, forcing Soren to dispense with college education and become a budding leader.
Meanwhile, he married Roopi. The couple has three sons -- Durga, Hemant and Basant -- and a daughter.
Roopi is said to have a calming influence on her sons, against whom many charges have been levelled.
Widely called Maa, she is devoted to her family, especially to her husband, and is said to be fastidious over his dietary habits.
Soren's turn under the spotlight came when he founded a tribal organisation, the Sonath Santhal Samaj, to fight non-tribal moneylenders in Jharkhand.
His supporters say his passions were inflamed when he observed diku moneylenders milking tribals and extracting usurious interest from them.
"No one can dispute that Shibu Soren is an icon in Jharkhand. For the past four decades he has been a pioneer in the movement against the dikus. He has instilled among his people that exploitation of tribals by non-tribals is a sin," says Professor Shahid Hassan of Ranchi University.
By 1971, he was calling the shots in the JMM, whose aim was to 'liberate' Jharkhand.
On January 23, 1975, Soren's Diku Bhagao Abhiyan spiralled out of control. His supporters went berserk in Chirudih village under Jamtara district's Narayanpur police station. When the violence abated, 11 people were dead, nine of them Muslims.
Sixty-nine people, including Soren, were chargesheeted on December 12, 1979. Seven years later, the Jamtara court took cognisance of the chargesheet and asked Soren to surrender.
He ignored the order, confident of his growing stature.
"Fortune smiled on Guruji as his stature went up and his followers looked upon him as a messiah," says Professor Hassan. "He had arrived as a potent force in Jharkhand politics and he thumbed his nose at the court order to surrender."
In fact, according to the professor, the JMM chief began thinking of himself as a larger-than-life figure. "You can find traces of megalomania in his personality," says Professor Hassan. "But then his supporters contend that he deserves everything."
In 1994, Lalu Yadav satisfied the clamour for a separate state by forming the Jharkhand Autonomous Area Council in 1994.
Soren became the JAAC chairman. Two years later, on August 18, 1996, he said the JMM would intensify its agitation if the Centre did not carve out Jharkhand from Bihar.
Lalu Yadav was vehemently opposed to the formation of Jharkhand. But thanks to the National Democratic Alliance government a separate Jharkhand state came into existence in 2000, with the Bharatiya Janata Party's Babulal Marandi as chief minister.
Soren has been elected to the Lok Sabha six times, five times from the Dumka constituency. His latest win was in the 2004 general election.
Both the NDA and United Progressive Alliance have conveniently ignored his alleged involvement in the JMM MPs bribery case of 1993, in which he allegedly received a large bribe for saving the P V Narasimha Rao government from a no-confidence motion.
But these controversies have not prevented him from being a force in Jharkhand or entering the UPA.
"Soren gradually realised that he had to wield political power if his lot was to thrive," says Professor Vijoy S Shankar, formerly of Ranchi University, now head, department of anthropology, Allahabad University, who has studied Soren's rise.
"The tribals needed a go-getter, which is personified in Soren. He obviously thinks that the goal is more important than the means and he has proved it by extending support to the NDA and the UPA alternately," he says.
"I have no hesitation in saying that Jharkhand will be plunged into khoon-kharaba (mayhem) if Guruji is harmed by the state administration," says the JMM's Rajya Sabha member Stephen Marandi.
"Guruji has done nothing wrong," he adds.
Jharkhand Chief Minister Arjun Munda, Soren's principal rival, says, "Soren is trying to give a political twist to the Chirudih massacre. It is a blatant attempt to get off the hook, but I think the law will catch up with him for what he did at Chirudih."
With an assembly election in Jharkhand due in February, the JMM is set to continue its alliance with the Congress and fight the ruling BJP.
"We will go to the people of Jharkhand to apprise them of the BJP's conspiracy against Guruji, who has done so much for them," says Marandi.
Image: Rahil Shaikh