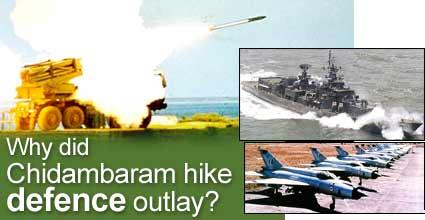 Soon after the Atal Bihari Vajpayee government presented the 2003-04 budget in February last year, a jittery Pakistan prepared a brief entitled: Phenomenal Increase in Indian Defence Budget.
'The massive Indian defence spending has its implications for Pakistan's national security. It fits in with the Indian aggressive posture towards Pakistan and its policy of non-dialogue. While India has been sharply increasing its defence expenditure, Pakistan's defence budget during the last three years has remained almost static with considerable decrease in real terms,' it said.
Finance Minister Palaniappan Chidambaram's Budget would probably prompt Pakistan to prepare a much stronger brief this year.
The reason: The Budget has set apart the biggest ever allocation to defence -- Rs 77,000 crore -- for 2004-2005. It is an increase of 27 percent or Rs 11,700 crore over the Rs 65,300 crore that the previous Vajpayee government had allocated for defence last year.
rediff.com looks at how the defence budget has been hiked all these years and where is all the money this year is going to be spent.
Why is it that the defence budget has been hiked?
Chidambaram says the phenomenal increase in the defence budget allocation is born out the government 's 'determination' to eliminate all delays in the modernisation of the defence forces. 'Having regard to the trend of defence capital expenditure in recent years, it has become necessary to make a higher allocation this year,' the finance minister reasoned.
Defence capital expenditure?
Yes, it in other words means the funds for acquiring state-of-the-art-weapons for the defence forces.
How much has been allocated in the defence budget to buy new weapons?
| | |
| --- | --- |
| | Also Read |
| | |
A whopping Rs 33,483 crore out of the total Rs 77,000 crore defence outlay will go to buy new weapon systems this year. Last year, the money allocated for defence purchases was only Rs 20,953 crore. So it is a nearly 60 percent increase in funds for defence modernisation.

What are the new weapons that the defence forces can buy with this new allocation?

India is currently negotiating some big ticket arms deals. The defence ministry has already fine-tuned proposals to acquire French Scorpene submarines and 125 multi-purpose fighters for the Indian Air Force to replace aging MiG-21s. India has signed a deal with Britain's BAe Systems to buy 65 Hawk Advanced Jet Trainers.

Early this year, the country also inked a multi-million deal with Russia to acquire the aircraft carrier, Admiral Gorshkov. India has also agreed to buy three Phalcon airborne early warning radar systems from Israel. In fact, of the 3,414 tanks in the Indian Army's possession, 1,200 are obsolete. Seven hundred of them are vintage Russian T-55s.

India has been introducing T-90s phase-by-phase. Almost Rs 4,000 crore will be set apart for a project to increase the firepower of the infantry.

Should India allocate such a huge budget for defence?

Experts insist that the country should allocate such a huge chunk of money for the armed forces. The Indian Army is 1.1 million strong. It has 34 divisions and 15 independent brigades. The Indian Air Force has 35 combat squadrons, 774 combat aircraft and the Indian Navy has over 100 combat vessels. The bulk of the defence budget is in fact revenue expenditure that goes into salaries, stores, works and transportation. Research and development accounts for 5.3 percent of overall allocation.

How has the Indian defence budgetary allocation been all these years?

From 1966-1967 to 1985-1986, India's defence budget remained over 3 percent of GDP. It peaked at 4.04 percent and 4.06 percent in 1986-1987 and 1987-1988. Since 1991-1992, the Indian defence allocation has remained below 3 percent of GDP.

How does the Indian defence budget allocation compare with its neighbours -- China and Pakistan?

Despite this year's hefty hike, India's defence expenditure still forms only 2.5 percent of GDP. It is much lower than China (6 percent). Pakistan spends 5.5 percent of GDP on defence.

What is Pakistan's defence budget in figures this year?

Pakistan's 2004-2005 defence budget for this year is Rs 19,392 crore (compared to India's Rs 77,000 crore). Pakistan has this year increased the defence spending by 20 percent. Last year, the Pakistani defence budget was Rs 16,092 crore.

Every year, the government has been allocating funds within the defence budget to modernise the forces? Are these funds judiciously utilised?

Sadly, no. In fact, the biggest problem that the defence ministry faces these days is that every year it surrenders to the government 'unspent money.' Last year, it surrendered Rs 9,000 crore that was meant for the purchase of modern weapons. In 2002, the ministry surrendered more than Rs 4,000 crore. The story of 'unspent money' is repeated year after year.

Why is it so?

Mainly because each defence purchase takes place after protracted negotiations and discussions. Experts argue that the large unspent money is a direct result of inadequate planning and the complex procedures of decision making in the defence ministry. Some have even suggested it as the 'inefficiency' of the Procurement Board that decides on the defence purchases. The fallout of 'possible defence scams' is another reason for slowing down the decision making process on purchase of weapons.

Image: Rahil Shaikh