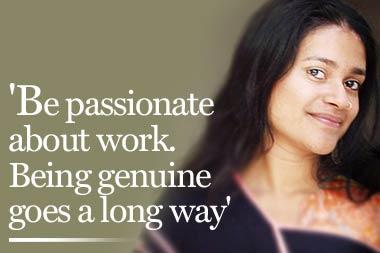 Nandini 'Pushkin' Chattopadhyay is among 15 immigrant students chosen as the first Merage American Dream Fellow. The $20,000 scholarship is restricted to mostly elite universities in America, including Harvard, Princeton, MIT and Stanford. Nandini is among the few students from a public university to win the scholarship which is offered to high scoring immigrant students who have demonstrated leadership qualities.
Nandini, an anthropology student at San Francisco State University, wrote this of her American Dream: 'To become an anthropologist and empower minorities through developing pride in their cultures and arts.'
She spent her early childhood in Pune and was raised in Singapore, where her father has a software company from age 7. She says she became interested in the Bahia region in Brazil, which has a substantial Afro-Brazilian population, when she spent about a month there about a year ago mostly as a tourist.
She hates to travel, Nandini told Senior Editor Arthur J Pais, because when she falls in love with a place she wants to stay back and study it. But now she cannot complain since will spend many months in Bahia thanks to the Merage American Dream Fellowship.
How did you get to be called Pushkin?
Nandini is my given name but my family and friends have always called me Pushkin. There was plenty of Russian literature at home. My grandmother loved Russian writers.
Aren't you glad your folks called you Pushkin and not Dostoevsky or Solzhenitsyn?
Ha, ha.
You have been a student at McGill, Montreal, and at San Francisco State. What would you tell incoming students from India about campus life?
Don't worry, it's nothing like in the movies, thank god! When I came to San Francisco, I was afraid the entirety of students would be part of sororities and fraternities, drinking (most tasteless) beer late, and engaging in conversations that sounded more like advertisements. Thankfully, at least at the San Francisco State University, I found an extremely diverse and fun mix of people of all ages and socio-economic backgrounds.
What are some dos and don'ts you would tell them about, by way of adjusting to new life in America?
Always remember that the number one right you have in America is the freedom to dress as you please.
You are fascinated by the music of protest. When did you first realise the connection between music and protest movements?
As a very small child, I grew up on Indian People Theatre Association songs. I was well versed in workers' movements, solidarity through theater, music and dance, and the eventual Marxist revolution in Bengal. One of my favorite songs is Bistir nodie pare, aushonkho manushe'r, hahacar shune nishtobde nirobe o Ganga tume, o Ganga boicho kano [Why do you, Ganga, flow on so unperturbed despite the cries of horror along your two vast banks]?
Everything you do seems to be associated with protest music and movements, isn't it?
A few years ago I was traveling in Bengal with a Canadian friend who does not understand a word of any Indian language. Suddenly a man boarded the train and sang a stirring song. I started crying, and so did my friend. The man was singing Baul music. A few months later I was doing my first major anthropology project studying the Baul protest movement and how it used music to talk about injustice, superstitions and hypocrisy .
What drew you to Brazil?
In Brazil too some of its most popular music and dance started in the ghettos as a protest against colonial rule and later against social inequities in general. 
Have you decided your area of concentration as an anthropology graduate student? Would it be in Brazil?
It would definitely be in the realm of arts (music/dance/theater) as a means of grassroot organization, solidarity, group identity and empowerment. I am undecided on whether I would focus my grad studies entirely on Brazil. The year in Brazil will help me solidify my plans.
How did you get interested in anthropology?
In part, this interest arises from the fact that anthropology is what I do in my everyday life. In addition to living in India, I have lived in Singapore, Montreal, Canada and  San Francisco. I have also traveled extensively across Asia and Europe. Learning different languages, philosophies, belief systems and social codes of conduct are what I have been doing as part of my everyday life. Being an anthropologist is somewhat of a continuation of that.
Many Indian students are not aware of the awards/scholarship like the one you have won [Merage American Dream]. What is your advise to them by way of preparation or interviews?
I'm no expert on this. This is the only award I've applied for. My advice would be to be passionate about work.  Being genuine goes a long way.
You have traveled a lot. What are the lessons in life you have learned?
Traveling always makes me marvel at the number of parallel realities globally. The most important lesson for me is the realisation that nothing is necessarily any one way, that there is a multiplicity of ways of looking at about anything.
Traveling is also so grounding, in that I always feel like I let go of whatever unnecessary baggage I pick up, living as I do now in this country. Traveling brings me back to earth, away from consumerist tendencies.
What is your ultimate American dream, as a person?
I see the American dream as being something flexible and personalised. For me, in this 'land of opportunity' it is important to enable and extend opportunities to the disenfranchised.
Is there a thinker who has influenced you considerably in reaching this dream?
Mahatma Gandhi. It would be apt to quote from Gandhi, when he said one must 'resolutely refuse to have what millions cannot. This ability to refuse will not descend upon us all of a sudden. The first thing is to cultivate the mental attitude that will not have possessions or facilities denied to millions, and the next thing is to rearrange our lives as fast as possible in accordance with that mentality.'
What is your American dream as an academic?
Anthropology is fascinating and its scope so large, it enthralls me. I would like to obtain a PhD in anthropology so that I may develop my own trajectory of anthropological enquiry, the anthropology of the arts. I would also like to, in the long run, be involved in keeping the arts and the associated community-related benefits alive and thriving and to encourage its development within communities which have had recourse to arts systematically taken away from them.
What fiction are you reading now?
Layla and Majnun by Nizami. I've heard so many versions of this story from all manner of relatives it's really beautiful to read Nizami's verses. It's amazingly romantic poetry.
And what non-fiction are you reading?
I'm concurrently reading two pieces of non-fiction. One of them is Orpheus and Power: The Movimento Negro of Rio de Janeiro and Sao Paulo, Brazil, 1945-1988 by Michael Hanchard. The other is War Talk by Arundhati Roy.
What have you taken (by way of life lessons, fun, insights) from the two books?
Roy and Hanchard talk about power, and hence, necessarily, powerlessness and in Roy's words, the 'circular conflict they're engaged in.' In Hanchard's view of Brazil, race relations equal power relations. As for War Talk, what is war but an exercise of power? The insight I have gleaned though my readings is that of myth.
What kind of myth?
Hanchard says the 'diffusion of the image of a racial paradise in Brazil effectively internationalised the myth of racial democracy...' In Brazil, the Movimento Negro is fighting against a myth. There was a myth about India under the Bharatiya Janata Party and the United States there is this myth about the war (in Iraq). The citizens are faced with myths, intricately layered and easy to lap up.
What is your ultimate aim as an anthropologist?
I am particularly interested in the role, aesthetic and non-aesthetic, of the arts, specifically music and dance.  There is a dearth of anthropological knowledge when it comes to the cross-cultural examination of the arts. This to me is very strange considering the universality of music/dance and other art forms.
You have a very wide goal, isn't it?
My aim is to explore themes such as; recourse to music and dance in the face of adversity and 'structural violence;' the relationship of the arts to processes of social change; the role of the arts in contemporary society in terms of national and community identity and solidarity; the economic, political and spiritual basis for the arts; how art gives voice to people of a community in arenas they would otherwise be excluded from. In short, art as a means of socio-political organization and empowerment.
Image: Uttam Ghosh