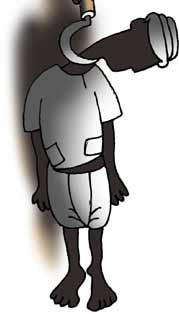 Andhra Pradesh accounts for three out of four suicides by farmers in the country.

This is a statistic often quoted by Chief Minister Dr Y S Rajasekhar Reddy. While he quoted these numbers with a lot of force as the state went to the polls in April, he does so now with a lot more concern.

Reddy upstaged the previous Telugu Desam Party government led by N Chandrababu Naidu with a little help of these very numbers. But the statistics that were his ammunition then are now his problem.
Between May 14, when Reddy took over, and June 13, 245 cases of farmers' suicides were reported. The government has accepted 126 of them as genuine -- cases where the administration accepts farmers killed themselves because they were unable to pay their debts.

Even the official toll -- 126 -- is a shocking figure. Or is it?

Suicides by farmers are nothing new in AP. The issue first hit the headlines in 1987 when 20 cotton growers committed suicide. The problem assumed alarming proportions in 1997. In the last seven years, about 200 farmers have ended their lives each year. And these are conservative estimates.
During the TDP government's regime, farmers' suicides had become a regular occurrence. The Congress reckons over 3,000 farmers ended their lives under Naidu's rule. Farmers' organisations (kisan sabhas) place this figure at 1,800. Official records say 900 farmers have committed suicide since 1997.

In 1997-1998, the TDP government paid ex-gratia to the families of 250 farmers who had committed suicide, but later stopped such financial assistance arguing that the ex-gratia would prompt more farmers to end their lives.

The district administration, on 'orders from the higher-ups,' even stopped keeping records of such suicides. Only a few farmers' organisations, mostly affiliated to the Left parties, continued to compile the data from non-official sources and media reports.
The Communist Party of India-Marxist affiliated AP Rythu Sangham and other farmers organisations have studied the issue in depth and come up with a broad profile of the farmers who committed suicide and the reasons that led them to do so.
The main cause for suicides, they found out, was the mounting debt burden.
The victims were almost always small and marginal farmers.
AP Rythu Sangham Secretary S Malla Reddy says: "All types of farmers have resorted to suicides. The farmers get worried about their debt burden and take their own lives out of desperation. In most of the cases, we found that the victims had borrowed huge loans for digging wells or drilling borewells. But they could not return the loans that mounted due to high interest."
He points out there have been some instances where the farmers got four to five borewell points drilled in their fields, but did not strike water. Consequently, they incurred huge losses which only added to their debt burden. Since the banks and cooperative societies had stopped extending them long-term credit for borewells due to low success rate of drilling operations, the farmers were forced to borrow money from private money-lenders at exorbitant rate of interest. A single-point borewell drilling typically costs Rs 40,000 to Rs 50,000.
The overall debt burden ranged between Rs 100,000 to Rs 500,000 in the case of small and marginal farmers. In some cases, tenants (or share-croppers) borrowed money only from private money-lenders since cooperatives and banks refused to provide them loans as they did not own the land.
Last year, for instance, banks and cooperatives advanced long-term loans up to only 50 percent of the targeted Rs 1,515 crore. Similarly, the institutional credit towards crop loans worked out to only 70 percent of the targeted Rs 9,667 crore. In absolute terms, total outstanding borrowings of farmers in the state stood at roughly Rs 30,000 crore, including Rs 15,000 crore from institutional sources and the rest from private money-lenders.
Officials admit disbursements under long-term credit and short-term crop loans fell substantially last year because of severe drought. Moreover, at least 3,000 out of the 4,600 primary agricultural cooperative credit societies in the state have been in doldrums due to bad loans and mounting arrears from farmers. Though these societies have a membership of 1.39 crore, only about 3.8 million or 38 lakh farmers have been provided loans.
Private money-lenders charged between 25 percent to 50 percent interest per annum.

In Pippalkoti village in Adilabad district, while the cooperatives disbursed only Rs 200,000 to farmers, brokers lent Rs 1,000,000 to small and marginal farmers last year.
And expensive credit is just one part of the story. Both quality and yield of various crops in the state has declined substantially due to adverse seasonal conditions and poor quality of seeds. Thus farmers get prices much below the minimum support prices fixed by the government. Worst-affected are the farmers who cultivated crops such as paddy,  groundnut, maize, cotton, chilly, turmeric, tobacco etc.
Farmers' suicides have been reported from several districts in all the three regions of the state -- Rayalaseema, Telangana and coastal Andhra. The worst affected districts include Anantapur and Kurnool in the drought-prone Rayalaseema region; Mahbubnagar, Khammam, Warangal, Adilabad and Karimnagar in backward Telangana region; and Guntur and Prakasam in coastal Andhra region. Fewer cases of suicides have been reported from other districts. Almost 80 percent of the victims are in the 35 to 50 age-group and remaining 20 percent in the 20 to 35 age-group.
The suicides may appear to be an instantaneous act, but they are not, says Chief Minister Reddy. "It is caused due to a combination of factors like successive droughts and pest attacks, mounting debts year after year particularly from informal credit sector and consequent social humiliation faced by a family in the community, financial extortion and psychological trauma resulting in social disconnect," he explains.
There are 106 lakh operational land-holdings in the state. Out of these, 85 lakh (81 percent) belong to small and marginal farmers and they cover only 42 percent of the operated area. Medium, semi-medium and large farmers constitute only 19 percent of the total holdings, but they operate 58 percent of the area.
Money lenders often resort to harassment and attacks on farmers. Some cases of suicides are not even reported to the police. Banks and cooperatives also resort to forcible collection of arrears, thereby driving hapless farmers to commit suicide, leaving their families in debt and misery.