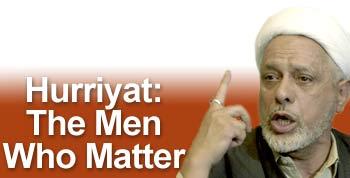 After several hiccups, the All Parties Hurriyat Conference and the Centre have decided to hold talks on the Kashmir issue.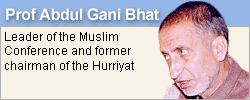 Several earlier initiatives to bring the two sides to the negotiating table failed for various reasons -- terrorist threats, the Hurriyat's unhappiness with the Centre's representative, and Pakistan's role or the lack of it.
The Hurriyat is a conglomerate of nearly two dozen separatist parties. It claims to be the sole representative of the people of Jammu and Kashmir.
Constituents of the Hurriyat are divided into two camps; one wants independence, the other to be a part of Pakistan. Some support militancy, others don't; though the latter are in a minority. People's Conference leader Abdul Gani Lone was assassinated for advocating a moderate line.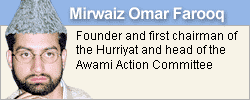 The Hurriyat leadership claims to enjoy clout among the militants, but generally the latter are seen dictating terms to the former.
The government recently strengthened security for Hurriyat leaders after they agreed for talks.
One of the reasons for the Centre's earlier reluctance to talk to the Hurriyat was the latter's refusal to participate in elections, which would mean having to acknowledge the Constitution as supreme.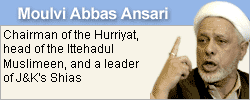 Mainstream parties like the National Conference, People's Democratic Party, and the Congress are unhappy at the attention the Centre seems to give the Hurriyat, but all said and done the latter does represent the separatist view.
Recently, the amalgam had split over the issue of participation in the 2002 assembly election. Maulvi Abbas Ansari heads the faction that favours talks with the Centre while Syed Ali Shah Geelani heads the one opposing it. Incidentally, Geelani also favours Kashmir being a part of Pakistan.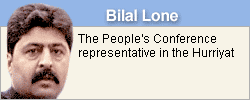 In a last-ditch attempt to resolve the issue before its term ends, the National Democratic Alliance at the Centre on October 22, 2003, authorised Deputy Prime Minister Lal Kishenchand Advani to hold talks with the Hurriyat.
On November 20, 2003, the Hurriyat announced that it is ready for talks and two months later, a five-member Hurriyat team is in Delhi to meet Advani.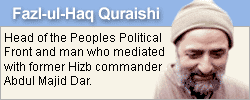 It must be noted that in this period, Pakistan and India announced a ceasefire along their border and the former has vowed to prevent terrorists from operating from its soil. The result is that the number of terrorist attacks have come down, creating a conducive atmosphere for talks and meeting one of New Delhi's major demands.