The much-awaited Lahore-Attari Samjhauta Express, which resumed operations on Thursday after two years, brought in 96 passengers from Pakistan to the International Railway Station in Atari at 12:55pm.
The moment the well-decorated Samjhauta Express reached the station after crossing the gate at the Zero Line marking the border between the two countries, a large number of Indians waiting for their near and dears could not control their emotions. Tears started rolling down their cheeks as they embraced people who came from the across the border in the 10 green and yellow-coloured coaches of the Pakistan Railways.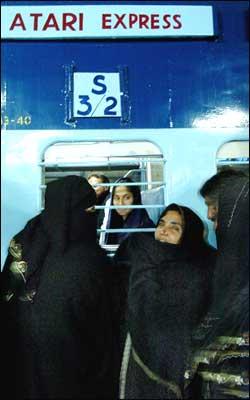 Residents of surrounding villages and BJP activists distributed sweets and showered rose petals on the passengers.
The passengers included 15 members of a hockey team of the Lahore Club, which is headed for Chhattisgarh, and around one dozen Pakistan mediapersons.
Two Members of Pakistan National Assembly Ramesh Lal and Mohd Anwar Bhutto presented a special bucket of flowers to the Indian Customs Department.
Earlier, more than sixty customs and BSF officials embarked on the train when it reached the gate at the international border. They and mounted BSF personnel accompanied the train up to the Atari Railway Station, which it reached at 12:50pm.
Passengers who had come from Delhi by the overnight Atari Express on their way to Lahore then boarded the Samjhauta Express, which commenced its return journey to Lahore at 2:20pm with 296 passengers and two extra bogies containing perishable items.