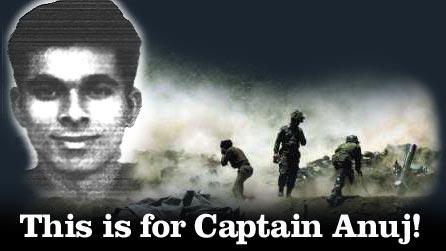 After the blazing summer of 1999, Delhi was bathing in the respite provided by the monsoons in July. I was working on a campaign idea with my art partner when I got a call from my mom. She sounded anxious, but managed to tell me that Anuj -- he was one of my pals and lived near my house -- had been killed in Kargil. 
I was stunned. I kept the phone down but her words kept echoing in my ears. Till then, I had been reading the newspapers and watching the news bulletins on television for updates on the war-like situation at our borders. Everyday, I'd discuss what was happening at Kargil with my colleagues, friends and family. The visuals of the dead bodies of our soldiers being brought back in coffins evoked a feeling of sadness.
But, as I kept the phone down that day, I was devastated. The reality of what was happening at Kargil hit me for the first time. When someone you know really well dies that way, the shock can be immense. I broke down and left for home immediately.
| | |
| --- | --- |
| | Also see |
| | |
As I drove though the gates of our society, a grim silence greeted me. People were standing around in small groups, talking intermittently in hushed voices. As I drove towards my house, my eyes instinctively searched out Anuj's home. It was enveloped in silence. A few people had assembled below his house.

I rushed to my home where my mom told me what had happened. The day before yesterday -- on the night of July 7-July 8 -- Captain Anuj Nayyar had led a counter attack against the Pakistanis. His objective was to recapture a peak that was in the hands of the enemy. He killed nine enemy soldiers and destroyed three medium machine gun bunkers before he was felled by an RPG shell. Thanks to his bravery and inspired leadership -- he took over the command of company after the commander was injured at the beginning of the attack -- the peak was captured by the Indian Army.

Mom told me they were waiting for Anuj's body, which was expected to arrive that evening. Dad and she had already visited his parents to pay their condolences. I asked her how they were reacting to the news. She said Anuj's mom was crying profusely but his dad looked composed.

I could understand that. His dad was his greatest motivator and the reason why Anuj joined the Army in the first place. Anuj's father was a strong-willed man who was more Anuj's best friend than a dad.

Anuj and I were friends since our school days. We continued to remain in touch till he joined the National Defence Academy. After that, we'd bump into each other on those rare occasions when he was back in town on a vacation.

In August of 1999, Anuj was planning to get engaged to his childhood sweetheart. His dad had even brought him a new car and was planning to gift it to him on the occasion.

My mom insisted I should go and meet his parents but memories of Anuj filled my mind and I just could not muster up the courage to do so.

Anuj's body was bought to his residence with full state honours the next day. It was kept in the park below our apartment so that everyone could pay their final homage. His body was later taken to the Army cantonment cremation ground where it was cremated with full state honours.
| | |
| --- | --- |
| | More diaries |
| | |
For some time, Anuj lingered in my mind. Then, with the passage of time, the memories were covered in dust. Yet, they were closer to the surface than I realised. As I watched J P Dutta's LOC Kargil, the memories came back to life.

A straight-in-your-face reality film interspersed with a bare minimum of fictional moments, LOC Kargil takes you into the field of action and recreates the Kargil war as authentically as it happened.

The film's characters represent the Kargil martyrs and the other brave soldiers of the Indian Army. So you have Captain Anuj Nayyar, Captain Vikram Batra, Lieutenant Manoj Pandey, Lieutenant Colonel Y K Joshi and many of the other brave men who authored the script that made India the winner in the Kargil war. It captures their valour in the field of battle; it documents how they led from the front; how they motivated the soldiers under their command; how they dealt with each new challenge and each new hardship; how they decimated their enemies. It encapsulates the soldier's quest for victory in extremely hostile conditions.

LOC Kargil is based on authentic research and gives you the events as they took place. A lot of care has been taken to see that the film is accurate even in its minutest detail.

LOC Kargil boasts of a huge starcast. I believe there are a total of 32 stars in the film. Well, after seeing it, I can understand why Dutta needed so many stars. It took more than a few glorious heroes to win the war and the four-hour movie tries to feature most of them. 

All the stars have played their parts extremely well. It's very difficult to pinpoint any one actor and say he was much better than the others. The story keeps moving from one character to another without letting any particular character hog more than his fair share of screen time. LOC Kargil is a podium where all characters stand on an equal platform. One character's bravery and glory doesn't shade the exploits of the other characters.

Saif Ali Khan has played Captain Anuj. I can't think of any other actor who could have done a better job. The manner in which he slipped into his character's skin is superb; he reminded me so much of Anuj.  

The background score and dialogues are gripping; the songs, too, are pretty intense and act as much needed breathers in the film. I believe most of the movie was shot in Leh (I bumped into many of the stars and even went to the place where the shooting was taking place when I had gone for a week's adventure trip to Leh in 2002).

The war scenes are authentic; the ammunition, artillery, vehicles and many of the soldiers seen in the film belong to the Indian Army.

One thing is for sure; you definitely get involved in the film. You swear in whispers as you see our soldiers ambushed and killed and then punch the seat in victory and, perhaps, swear a bit louder as our brave men retaliate by killing the enemy and driving them out.

The dialogues especially during the war scenes are peppered with the choicest of abuses, which is quite understandable and realistic. To quote a friend who was sitting next to me in the theatre: you hurl the choicest abuses when you are watching a cricket match and this, after all, is a real war, man!

Normally, when we come out of a movie theatre, the first question we ask those who are with us is whether they enjoyed the movie. As far as I am concerned, LOC Kargil is not meant to entertain the viewer. I don't even know if you can say you liked the film because LOC Kargil a gripping real-life tale that has been recreated on the big screen. It is a medium through which you will -- for at least four hours, if not longer -- remember the martyrs and soldiers of Kargil and pay them the tribute they so richly deserve.

Image: Uttam Ghosh