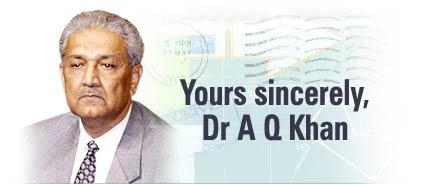 A handwritten letter from Dr Abdul Qadeer Khan to the editor of the Observer newspaper, dated July 21, 1980 has surfaced and provides a timely insight into the mind and personality of the 'father' of the Pakistani bomb.
Khan was responding to a December 1979 report I co-authored with Colin Smith, detailing his nuclear espionage in the Netherlands. The then editor of the Observer, Donald Trelford, sent me the letter in case I wanted to respond, but the language used by Khan was so coarse that we decided it would be more dignified not to say anything.
Now, 24 years after he wrote the letter from P O Box 502, Rawalpindi, Pakistan, Khan has admitted selling his pirated nuclear weapons technology to North Korea, Iran and Libya. Pakistan President Pervez Musharraf has pardoned him, but Khan remains under house arrest.
Khan wrote:
'The article on Pakistan in the issue of 9.12.1979 by Colin Smith and Shyam Bhatia was so vulgar and low that I considered it an insult to reflect on it.
It was in short words a bull-shit, full of lies, insinuations and cheap journalism for money and cheap publicity.
Shyam Bhatia, a Hindu bastard, could not write anything objective about Pakistan. Both insinuated as if Holland is an atomic bomb manufacturing factory where, instead of cheese balls, you could pick up "triggering mechanisms." Have you for a moment thought of the meaning of this word?
Of course not because you could not differentiate between the mouth and the back hole of a donkey. I do not owe an explanation to anybody, but I did owe an explanation to the Dutch government, which I did with all the documents.
Unfortunately, the followers of Jesus Christ are so honest and so nice and so upright in their professions that one must not say a word against it. All that the two journalists wanted was a cheap sensational article. Why don't you write about Margaret (Thatcher)?
You were quick to publish that article based on lies and concocted facts. Impact International has published an article on the BBC vulgarity. For good journalism and to bring to the public the other view, you should reproduce it in the same way as you did with Smith and Bhatia.
I have my reservations as it does not serve the purpose of Christianity and Judaism. My contribution to the project lies in the fact that I got best education at Europe's best universities and was a good scientist. It does not make any difference that I worked for some time with FDO and translated some heat treatment specifications for Almelo.
Yours sincerely,
Dr A Q Khan'
Khan wrote other, much more pleasant letters to contacts in Europe who could be useful to him.
| | |
| --- | --- |
| | Also Read |
| | |
Frits Veerman, a Dutch photographer who once shared office space with Khan at the FDO laboratories in Amsterdam, was a recipient of the missives that arrived so regularly from Khan's subsequent home in Pakistan.
Last month on a visit to Amsterdam, Veerman showed me a selection of the letters he received from Khan.
Khan wrote in January 1976: 'Dear Frits, it is now almost a month since we left the Netherlands and I am gradually beginning to miss the delicious chicken. Every afternoon I think: ask Frits if he feels like eating chicken. As Henny will tell you, I have been sick and must remain in bed. When we left the Netherlands we all became a bit sick in the plane. I will have to stay longer in bed.'
In another letter he said: 'At the moment it is beautiful weather. It is sunny and warm. Islamabad is a beautiful city and one can see white mountains from my balcony. It would be very pleasant for us if you come to Pakistan and stay with us. You are always welcome. If you decide to come to Pakistan then let me know in time. You can get a return ticket for Dfl 900 from London. My friend would help you in that.'
A third letter had more sinister overtones:
'Very confidentially, I request you to help us. I urgently need the following for our research programme:
1. Etches of pivots:
(a) Tension - how many volts?
(b) Electricity - how many amperes?
(c) How long is etching to be done?
(d) Solution (electrolytic) HCL or something other is added as an inhibitor.
If it is possible, grateful for 3-4 etched pivots. I shall be very grateful if you could send a few negatives for the pattern. You would be having negatives of these.
2. Lower shock absorber. Can you provide a complete absorber of CNOR? Please give my greetings to Frencken and try to get a piece for me.
You can ask for it or get it in pieces. In any case I shall like to request you very strongly to send me a few pieces (3 or 4) of membranes and a few pieces of steel springs that are used in the absorber.
Frits, these are very urgently required, without which the research would come to a standstill. I am sure that you can provide me with these. These two things are very small and I hope you will not disappoint me.'
Photograph: Aamir Qureshi/AFP/Getty Images
Image: Uday Kuckian