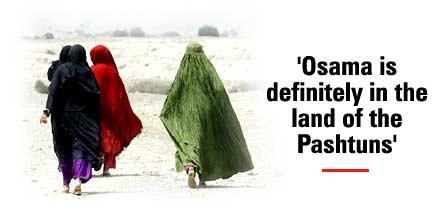 Nasir Hussein, 35, is chief executive officer of the Kurram Rural Support Organisation, which works for the human rights of tribal people based in Pakistan's North West Frontier Province.
In this first person account, he explains the culture and worldview of the North West Frontier, where Osama bin Laden is said to have found refuge after the Taliban was ousted in Afghanistan. A resident of Parachinar, NWFP, Hussein claims that people living in the mountain ranges are clamouring for democracy.
I belong to the tribal areas of Pakistan that borders Afghanistan. Our population across seven tribal agencies and five frontier regions is more than seven million. No one knows the exact population because the census conducted here has been always unreliable. For many centuries, we have been closely linked with Afghanistan. We have had inter-region marriages for generations and we share the same Pashtun culture.
The border between my hometown and Afghanistan was never sealed even after the creation of Pakistan in 1947. It is an open border and tribals do not need visas to cross over. Some security personnel are posted there but they don't harass us. Because of the open border, smuggling is a flourishing trade. Goods and drugs worth millions move from Afghanistan to Pakistan and reach South Asian countries.
Though Pakistanis, we -- the tribal people -- are regulated by a different law called the Frontier Crime Regulation Act, which was framed by the British. The act is unfair and we are fighting against it. In the NWFP, we do not have elections to the local bodies; only assembly and federal elections are held. We are fighting for our democratic rights and share in the governance of our land. There is a movement in our area to have local elections. We have a malik (chief) in each village, somewhat like the sarpanch of India. These maliks and the political agents (selected by the governor, who in turn is appointed by the federal government) have formed a nexus and enjoy brutal powers.
In our areas, the common man's voice remains unheard. The Political Parties Act, under which political parties in Pakistan function, has not been extended to the Federally Administered Tribal Areas (FATA). In the absence of political parties, religious leaders have become very strong. In the last elections, the maulvis (religious leaders) sent many religious extremists to parliament and to the provincial assembly. These fundamentalists have no tolerance or patience and are incapable of handling the people's problems or raising their voice about real issues.
The political agent enjoys absolute powers. He is an administrator, development officer, judge, and many other things rolled into one. He can arrest and jail anybody up to 3 years without giving a reason. His decision cannot be challenged in any court of law in Pakistan.
Our area lies between the Hindukush range to the ice-clad Kohe Safed (White Mountain). Most of us are Pashtuns, but we have many Sikhs and a few Hindus and Christians among us. In Kurram, where I live, and in the Khyber agency, a mixed population of Shias and Sunnis dominate. The Afridis, Masoods, Wazirs, and Momands dominate other agencies. Our areas are almost crime-free and safer than Islamabad for women. Kidnapping cases have never been recorded. If you were with me, no one would dare disrespect you. If they know you are from Hindustan, they will shower love on you. All of them will insist you stay with them to experience their hospitability.
In our area, a large number of Hindus lived before independence and the Pashtuns have not forgotten them. Even now, land records show their names. There are places named after Hindus and we have preserved Hindu temples, as in Parachinar city. The locals respect Hindus when their family member dies. We help them follow Hindu rituals after death. The village joins the Hindu family on such occasion and we express sorrow and sympathy. We have gurdwaras for Sikhs in our area. In Kurram, there are around 1,000 Hindus and Sikhs. The Sikhs, who are mostly shopkeepers, have businesses links with Afghanistan.
We are slowly changing. People are now demanding civil rights. No one talked about women's rights before, but now we talk about it. In Pakistan's administration, tribals from the North were given the benefits of reservation but the non-tribals objected and we lost many benefits recently. The Punjabis are the most powerful group in Pakistan because most of us are uneducated. Politically, we have merged well with Pakistan but culturally we are different from Punjab and Sind.
Do Read: 'Pakistan is not ready for democracy yet'
These days Pakistan and Afghanistan are not on the best of terms, but it doesn't affect us because we have blood relations in Afghanistan. The Pashtuns carry on irrespective of politics. The Pashtuns have been demanding a Pashtoonstan. Pakistan was created on the basis of religion, but the Pashtuns of Balochistan, FATA, and NWFP want a nation on basis of a suba (community). But this demand will not materialise because Pashtun leaders are insincere and the people are illiterate.
The poor people love Pashtun but can't fight for their rights. They will have to snatch their rights from the rest of Pakistan. I am personally not in favour of a separate state for Pashtuns but I am working for their human rights. I want to give you one indicator. In the 21st century, the literacy rate of my birthplace is 7% for males and 2% for females. What will they know about their democratic rights and how to get more from the government in Islamabad?
We don't have water in our homes. It is a daily sight to see women fetching water from far away areas spending almost half a day.
Also read: A New Pakistan?
The Tora Bora mountains can be seen from my home. Today, no one is sure whether Osama is hiding there or not. It is an area where even I don't go to without covering my head and without wearing a salwar kameez. Travellers who wear non-tribal clothes are known as ajnabis (aliens) and are questioned repeatedly.
Recently 156 Al Qaeda activists were arrested by Pakistani border troops in my area. They were kept in the local administrative offices of the political agent, but all of them escaped. While escaping, around seven Al Qaeda activists were shot dead, who were buried on the administrative office premises. Our people now call them martyrs and worship at their mazars (graves). I don't believe in such things, but most of the Sunnis of my area believe and support Al Qaeda.
Osama is a popular figure in our land. A few days before we heard that he was seen offering namaz in a mosque in Balochistan. We believe Osama is definitely in the land of the Pashtuns although we don't know his exact hideout. Our people have a religious affinity with the Taliban and Al Qaeda. They are well organized and have worked hard to create their base among the Pashtuns. Mind you, our illiterate people are aware of America and its deeds. In all our homes, the radio is always switched on. People listen to the BBC Pashtun service and talk endlessly about BBC news.
Our hatred of America has to be seen to be believed. The Pashtuns hate America too much. When America bombed Afghanistan, a mullah in the Momand agency of FATA started a party called the Tahrik-e-Nifaze Sharia. He started this party to promulgate the Sharia. Any maulvi could get 300 to 400 young soldiers to fight Americans. Hundreds of tribals went to fight American troops, and many died.
The popularity of Al Qaeda will not recede in the near future. Al Qaeda's roots are quite deep in the Pashtun areas of Pakistan. These Pashtuns also resent the Hazras' dominance over Hamid Karzai's government. The common man of my area is very upset with President Pervez Musharraf. They say, 'Yeh to American hai'. They are against his men's actions against Al Qaeda's activists. But the educated people support Musharraf and his fight against terrorism.
The MMA government got elected only because they were opposing America and its presence in Pakistan. But they are fast becoming unpopular because they are not fighting against America and they have not opposed the arrests of Al Qaeda activists.
As told to Contributing Editor Sheela Bhatt
Photograph: Jewel Samad/AFP/Getty Images
Image: Uday Kuckian