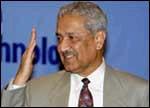 Acting on the recommendation of the cabinet, Pakistan's President Gen Pervez Musharraf on Thursday pardoned the father of the country's nuclear bomb Abdul Qadeer Khan, a day after the latter publicly admitted leaking sensitive nuclear know-how to Iran, Libya and North Korea, a local TV channel reported.
| | |
| --- | --- |
| | Also Read |
| | |
Earlier in the day, the cabinet, headed by Prime Minister Zafarullah Khan Jamali, had recommended that the president pardon Khan.
The metallurgist had on Wednesday met Musharraf and admitted leaking nuclear technology and sought forgiveness.