Former prime minister P V Narasimha Rao has died at the All India Institute of Medical Sciences in New Delhi.
Also read: Parliament mourns Narasimha Rao's death
Rao, 83, was admitted to AIIMS after he complained of breathlessness on December 9.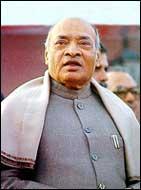 According to former Youth Congress president Maninderjit Singh Bitta, who was at his bedside, Rao slept peacefully on Wednesday night.
In the morning he developed certain complications and at noon, he had a cardiac arrest. At 1440 IST, doctors declared him dead.
One of his sons, Prabhakar Rao, was also at his bedside.
Later in the day the body was brought to 9, Motilal Marg, where Prime Minister Manmohan Singh and Congress president Sonia Gandhi were expected to arrive.
The government announced a 7-day national mourning for the departed leader.
After being admitted to the hospital, Rao had recovered after virtually sinking into a coma and had talked to visitors, including President A P J Abdul Kalam.

He had suffered a cardiac arrest after his admission to the hospital.
Also read: 'PV': A scholar, a statesman
He is survived by three sons and five daughters. One of his sons, P V Ranga Rao, was a minister in Andhra Pradesh.
Rao, the first prime minister outside the Nehru-Gandhi family to complete a five-year term in office, had a history of heart problems.
How do you view P V Narasimha Rao's legacy? Tell us