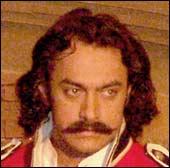 Bollywood heartthrob Aamir Khan is in Pakistan to help raise funds for cricketer-turned-politician Imran Khan's Shaukat Khanum Memorial Cancer Hospital.
The Indian megastar, sporting a new look -- a handlebar moustache and flowing mane --  arrived in Lahore on Friday night. He was received at the airport by Imran Khan.
Later, addressing a press conference, he called for trust, love and friendship between India and Pakistan.
To a question, he said he would love to perform in a Pakistani movie if the theme and story were strong and the project had the consent of the Pakistani and Indian governments.
The film star is hugely popular in Pakistan and is expected to draw a huge crowd at Saturday's hospital function, in which he is the chief guest.
Aamir will be featuring along with Imran, who plans to build another hospital in Karachi, in a three-hour live 'telethon' show being organised by local Geo TV. He will also attend two fund-raiser dinners at Lahore and Karachi.