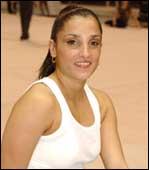 Mohini Bhardwaj, gymnast and Olympic silver medallist, was voted India Abroad Person of the Year 2004 by a distinguished 11-member jury, headed by Sonal Shah, India Abroad Person of the Year 2003.
Twenty-six year old Bhardwaj was one of the 123 nominations sent in by the readers of India Abroad and rediff.com for the India Abroad Person of the Year 2004.
Shah presented the award to Bhardwaj's father, Dr Kaushal Bhardwaj, an internist from Cincinnati, in a glittering ceremony held at the New York Palace hotel in New York on December 3.
The ceremony's impressive guestlist included US Congressman Joseph Crowley, co-chair of the Congressional Caucus on India and Indian Americans.
Mohini Bhardwaj, who was in Orlando, was unable to accept her trophy personally.
She is on a 40-city tour with the 2004 Olympic gymnastics team to raise funds for the Carrie Brown Foundation, a trust for less-privileged children. The trust was established by Bhardwaj's coach, Rita Brown, in memory of her youngest daughter who was killed in a car accident caused by drunken driving.
It took the jury for the India Abroad Person of the Year 2004 award over five hours of deliberations to select Bhardwaj as the winner.
The jury, which met in New York on October 30, included:
1. Sonal Shah, co-founder, Indicorps and vice president, Goldman Sachs.
2. Ravinder Singh Bhalla, attorney.
3. Subrata Chakravarty, worldwide TOP Editor, Bloomberg News.
4. Nisha Desai, director, Public Policy, InterAction.
5. Anita Gupta, vice president, Global Consumer Group Public Affairs, Citigroup.
6. Ann Kalayil, manager, Networking Services, University of Chicago and executive director, Indian American Democratic Organisation.
7. Kaleem Kawaja, engineering manager, National Aeronautical and Space Administration's Goddard Space Flight Centre and former president, Indian Muslims of America.
8. Rekha Malhotra, founder, Basement Bhangra™  and cofounder, Mutiny.
9. Debashish Mishra, founder and vice-chair, South Asian American Leaders of Tomorrow.
10. Parmatma Saran, professor and chairman, sociology and anthropology department, Baruch College, City University of New York.
11. Purvi Shah, executive director, Sakhi for South Asian Women.
The daughter of immigrants Indu and Kaushal Bhardwaj, Mohini began taking gymnastics classes at the age of four at a local club called Queen City Gymnastics in Indianapolis. She won a full scholarship to UCLA.
Despite solid performances at the NCAA national championships -- she earned an All-American ranking -- Mohini was a long shot for the US Olympics. 
In 2002, she had retired from competitive gymnastics after dislocating her elbow and running low on funds to pay for further training.
Yet, her dream of making the Olympic team would not allow her to give up.
Notwithstanding her age -- at 25, Mohini was much older than the average Olympic gymnast -- and the fact that she had to work at several jobs to pay for her training, Mohini made the US Olympic team.
And, in August at Athens, she led the team to victory.
"Our community is inspired to achieve because of the inspirational stories of those who have gone before. Mohini had no hope, no backing, no support -- all she had was a fierce belief in herself and a fiery determination to make the grade. Isn't that what this community is all about -- self-belief and determination?" asked a member of the jury.
Says Shah, "Mohini achieved many firsts as an Indian American. She is the first Indian American to represent the US in an Olympic competition -- what is more remarkable is that she made it to captain of the US women's gymnastics team. She is the first to lead her team to a silver medal, indeed the first Indian American to receive a silver medal. Her personal journey is an inspiration to us all, reminding us that hard work and determination can overcome personal challenges. Hers is a story of endurance, courage and tremendous inner strength."
"I am honoured to have been selected as the recipient of this award," Bhardwaj said in her acceptance speech, which was shot on location.
At the same ceremony, Ajit Balakrishnan, publisher of India Abroad, presented Vanita Gupta with the Publisher's Special Award for Outstanding Achievement.
Gupta, 29, a New York attorney who won the release of 46 wrongly-accused African Americans in Tulia, Texas, is the first winner of this award which was instituted by
India Abroad
this year.