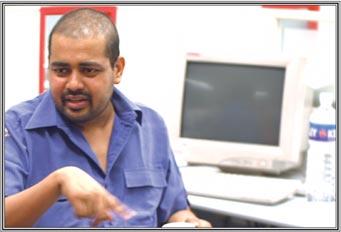 Anjum N, senior assistant editor with rediff.com and India Abroad, passed away on August 25 after a very brave, year-long battle with cancer, at the Amrita Institute of Medical Sciences and Research Centre in Kochi. He was 32 years old.
As per his wish, Anjum was cremated on August 26 in a non-religious ceremony, with his wife Patcy Nair lighting the pyre.
Anjum was a remarkable human being -- calm, strong and exceptionally composed -- never once letting the Big C get the better of him. Till the very end, he kept fighting the disease. Never once did he lose his sense of humour, battling the disease with courage and a smile on his face. Only last week, as he was taken in a wheelchair to the aircraft en route to Kochi, he managed to flash a V sign.
Even as he was undergoing chemotherapy, despite the physical weakness he continued to write for both Rediff.com and India Abroad.
There was more to Anjum than being a journalist. Involved with the activities of the Students Federation of India right from his college days, he was also involved in the street theatre movement, and was a main part of the theatre group Disha. He wedged in time between long hours at the office to perform in street plays that championed causes dear to him like anti-fundamentalism.
| | |
| --- | --- |
| | Also Read |
| | |
Anjum was also an avid movies buff, his trenchant reviews of Bollywood fare never off the mark. In his spare time, he also wrote poems, was a poster painter but, above all, he was a great fighter.
The optimist that he always was, in one of his sms messages last week, he wrote: We are still the realists. Aren't we? We will do the impossible -- Anjum
That was what Anjum was and that's how we at rediff.com will remember him.
Read Anjum N on Rediff.com:
http://www.rediff.com/entertai/2001/jul/27mohan.htm
http://specials.rediff.com/movies/2003/dec/30sd1.htm
http://inhome.rediff.com/entertai/2001/dec/14kabhi.htm
http://www.rediff.com/movies/2003/jun/27atul.htm
http://www.rediff.com/movies/2003/feb/20madhur.htm
http://specials.rediff.com/movies/2004/mar/09sd1.htm
http://in.rediff.com/movies/2003/nov/19vashu.htm
http://in.rediff.com/movies/2002/jun/21apd.htm
http://us.rediff.com/movies/2003/nov/07ek.htm
http://www.rediff.com/movies/2004/mar/02oscar.htm