On the face of it, the case against Madhya Pradesh Chief Minister Uma Bharti seems simple.
On August 14-16, 1994, way before the Bharatiya Janata Party came to hold the reins of power at the Centre, Bharti led an agitation and hoisted the tricolour at the Idgah Maidan in Hubli, Karnataka.

Since the ground was disputed, and the BJP activists had defied an order banning assembly at the spot, a criminal case was filed against Bharti and 21 others.


| | |
| --- | --- |
| | Also Read |
| | |
The charges against them were attempting to commit murder, setting fire, assaulting public servants, rioting with deadly weapons etc, which are non-bailable offences. The attempt to commit murder charges stemmed from the rioting following the flag raising in which 10 people were killed.

In all, 10 cases were filed, and warrants and non-bailable warrants issued in the past against Bharti and others for non-appearance in court.

The Judicial Magistrate, First Class, in Hubli had even declared Bharti a 'proclaimed offender' in the case.

Realising how emotive the case could turn out to be, especially if she was held guilty -- of violating the government's ban order, not for hoisting the flag but which distinction could get blurred in the shrillness of propaganda -- the previous S M Krishna government in Karnataka applied for withdrawing the cases in 2002.

All the cases were then withdrawn, except the one under Section 307 of the Criminal Procedure Code, which relates to murder. Interestingly, just two months ago the government filed a revision petition in the Hubli district and sessions court seeking withdrawal of the case.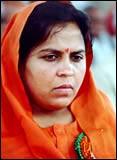 Last week, however, the state public prosecutor told the court that the government was withdrawing the petition in the public's 'best interests'.
The Idgah maidan in Hubli was in the eye of a storm following the BJP's persistent attempts to hoist the tricolour from there, but the issue was sorted out amicably a few years ago after a Muslim trust agreed to unfurl the flag itself.
The local civic corporation had also claimed before a court that the ground belonged to it, and had been given on a token rent to the Muslim community to enable them to offer their prayers.