Aadi is an inauspicious month, or so feel the people of Chennai and Tamil Nadu.
No one weds, buys clothes or even shifts residence in Aadi.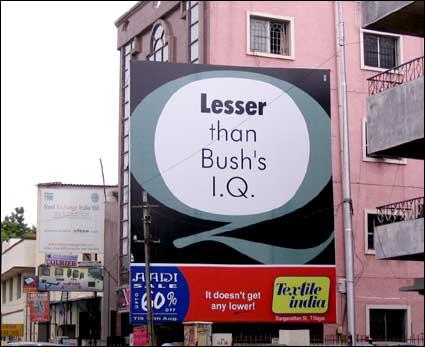 If a marriage has to be conducted in Aadi, they keep the bride away from the groom lest there is an inauspicious conception.
People yearn for Aadi to end and Aavani -- Shraavan to north Indians -- to begin. Everything is low-key and commerce gets a beating. Traders wait endlessly for customers.
Then someone came up with the idea of 'Aadi Sale'.
Some 10-15 years ago, big retailers in Chennai's T-Nagar started offering huge discounts.
The urban population, with more or less steady incomes, saw the chance to make bargain purchases [it is a different matter that they do not use the product till Aavani starts].
Everything is on sale -- mixers, TV, music systems, refrigerators…
Now Aadi is perhaps the month traders ring up the highest sales in urban Tamil Nadu.
Competing discounts drive prices down by even 60%.
And it doesn't get any lower, as the hoarding in the picture says.