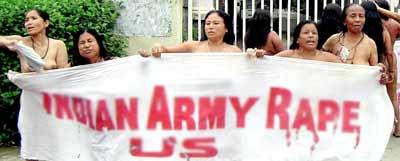 A guide to the Armed Forces (Assam and Manipur) Specials Powers Act, 1958, which has provoked such unprecedented hostility in Manipur.
What is the turmoil in Manipur all about?
It is a tragic reality that few Indians know or care about the northeast, unless some tragic incident shocks us.
The northeast, far from New Delhi and where terrorism, unlike say Jammu and Kashmir, lacks an international dimension, is hardly in the public consciousness.
What is often forgotten is that all seven states in the northeast have an international border.
| | |
| --- | --- |
| | Also Read |
| | |
A tragic event on July 11 changed all that.
On that day, Thangjam Manorama, a 32-year-old woman, was found dead. Just a day earlier, the Assam Rifles, a paramilitary force deployed in the state, had arrested her.
Angered by the wanton killing, the shocked women of Manipur protested in a manner never seen before in independent India. They stripped [top image] outside the gates of the Assam Rifles headquarters in Imphal, the state capital.
If the idea was to shame and shock the world, it certainly worked.
The naked protest awakened the media, central and state governments, all of who now began to discuss the anger among the Manipuris.
It was also the beginning of mass protests in Manipur, which continue till date and show little signs of abating.
The 12 women who shed their clothes were also protesting the Armed Forces (Assam and Manipur) Specials Powers Act, 1958.
They, and most of Manipur, want this Act repealed at once.
What is the AFSPA?
The Act gives a lot of powers to the security forces -- the army and paramilitary -- in their hunt for extremists.
Under the Act, which has been in force since 1980, security forces can arrest any person on suspicion of being a militant or a supporter to the militant cause.
The person so arrested can be detained for months without being produced before a magistrate or competent judicial authority.
Under regular criminal laws, an arrested person has to be produced before a judicial officer within 24 hours and the charges listed.
There have been numerous complaints over the years that these powers have been used arbitrarily, unfairly and often without justification.
Worse, that persons so detained and arrested have either disappeared or been found dead, like Manorama.
Is the AFSPA really that bad?
All states that have suffered from militancy have been placed under special Acts that empower the security forces.
This has been the case in Punjab and in Jammu and Kashmir. Most of the northeastern states have at one time or the other been under such an Act.
Unusually, the AFSPA authorises low level security personnel to arrest people.
Even a havaldar -- a non-commissioned officer, equivalent to an army sergeant -- can order arrests and detention.
Elsewhere, only officers -- that too of a certain rank and above -- have the right to arrest and detain.
Also, if a mistake is committed, there is little accountability. The army insists it investigates crimes by its personnel and hands out sentences, but if the idea of justice is to deter further crimes, it does not seem to be working.
Why do we need the AFSPA?
It is almost impossible to tackle terrorism under regular criminal laws, especially in a situation where no one is willing to testify or stand as a witness for fear of being killed.
This has been shown to be the case in Punjab and Kashmir; it has been the case in the northeast -- notably Assam and Nagaland. It has also been the case internationally.
If the security forces are to have any realistic chance of winning the war against terrorists who regularly kill security forces and civilians in pursuit of their goals, the security forces do need special powers.
But as any army officer will tell you, the security forces can only contain militancy. To actually resolve the issues that create militants is the politicians' job.
If the security forces are kept perennially in a state where there is no improvement in ths situation over time, they tend to become trigger-happy and overzealous.
Today, much of the anger in Manipur is also a reflection of a state whose citizens have been reduced to a hapless lot, caught between the security forces and the militants who extort money and run parallel courts, and between governments in Imphal and New Delhi who seem to have no clue on what to do improve the people's lot.
What has been the Centre's response?
Imphal, at 2,443 km from Delhi, is not the farthest state capital. That distinction goes to Thiruvananthapuram in Kerala at 2,814 km.
Yet it is a measure of how distant Manipur is mentally and emotionally, and how little it counts for in power politics (the state sends just two members to the Lok Sabha compared to Kerala's 20) of New Delhi that not a single central minister has deemed it fit to travel to Manipur.
The irony is that Prime Minister Manmohan Singh represents a northeastern state, Assam, in the Rajya Sabha. Had something similar occurred in any of the so-called 'mainstream' states, there would have been a caravan of ministers and bureaucrats flying in and out!
In New Delhi, Home Minister Shivraj Patil has ruled out lifting AFSPA. The Centre has also changed the governor and is rushing to Imphal bureaucrats who have experience in dealing with Manipur.
But the state government, led by Chief Minister Okram Ibobi Singh, is clearly floundering. Despite imposing curfew in Imphal, the protests continue. The latest is that the chief minister has promised to lift AFSPA at least temporarily.
Image: Rahil Shaikh