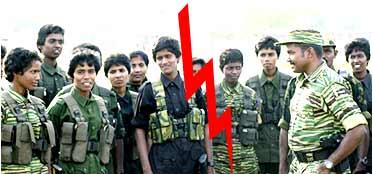 For a military commander, Lieutenant General Lionel Balagalle is atypically soft-spoken and suave.
But Sri Lanka's chief of defence staff is also known for his no-nonsense attitude when dealing with both his troops and his former enemy, the Liberation Tigers of Tamil Eelam.
On a trip to India in December, the army commander met Defence Minister George Fernandes and the Indian army, navy, and air force chiefs to fine-tune the details of a defence pact. Soon after his return to Colombo, he initiated steps to erect a monument to remember the Indian soldiers who died fighting the LTTE.
General Balagalle spoke to Senior Editor Ramananda Sengupta at the military headquarters in Colombo.
Could you tell us about this defence pact with India?
The defence pact is yet to be signed. Our draft documents have nearly been finalised, and the Indian defence secretary will soon be sending us their document, which they have approved. Finally, when both parties agree, then I suppose it's just a matter of time before it is signed.
What are the broad parameters of this pact?
I don't have all the details yet, but basically the idea is to have closer cooperation on defence matters. These include increasing the slots for training Sri Lankan military personnel in India.
Do you have, or propose, a similar pact with any other nation?
For the moment, we do not have any such plans. But we do have agreements with China, for instance with Norinco (a Chinese military-industrial outfit that develops, produces, and markets a variety of military equipment, systems, and components, including fire-control systems, sighting and aiming systems, and NBC protection equipment). But that is not a defence agreement as such.
Does the pact encompass all three services?
Of course, yes! All three services. And there will be provision to further improve on the cooperation. The basic framework is being agreed upon, but there will be provisions to improve military interaction among the two nations.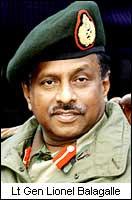 Personally, as army commander, what are the things you feel India can help you with?
They are already doing that by training our men, and they will continue to do that, in fact they will increase the number of berths for Sri Lankan soldiers. Then, also, we can have much closer cooperation between the two navies, whereby the smuggling of military items by the LTTE could be curtailed.
But doesn't such cooperation already exist?
Well, there is a certain amount of understanding, they meet very regularly. So this is a case of formalising the whole thing and probably have better relations and better co-ordinated actions. Then, sometimes we run short of aircraft, so perhaps there could be a provision where we could hire some aircraft, particularly transport aircraft.
The Indian military faces difficulties attracting officer-grade men. Does the Sri Lankan army, the largest employer in the country, face a similar problem?
We certainly had this problem some time ago, when we were doing large-scale recruitment of officer grades. At that time, we couldn't get the quality that we would have liked to have. But today we have very stringent and strict measures to select youth as officer cadets. This was a problem, but today we are getting better quality officers.
Is this due to the image of the army having changed since the peace process?
Well, that may have contributed to some extent, but the main fact is that we are not recruiting as many as before in such a short period of time. When you are rushing to get the numbers, naturally the quality goes down and we have to accept that.
Other than maintaining peace in the nation and helping during emergencies caused by natural calamities, what roles does the Sri Lankan military play?
Well, we have had this problem with the LTTE for some time, so it had to be a fairly large force. We had to cover all the areas in the north and the east, and the rest of the island, including Colombo. Which was why we needed such a large number of troops. So that time it was operations against the LTTE. Thanks to the ceasefire agreement, we do not have that crisis anymore, so they are assisting the police in maintaining law and order, and guarding certain areas which are considered vulnerable to the LTTE threat.
Has the division in the LTTE weakened it as a fighting force?
Yes, if the division continues, it has weakened them, there is no doubt about it. If Karuna [the rebel LTTE commander in the east, speaking to LTTE cadres, in main image] continues to oppose Prabhakaran, it will certainly be a problem for them. They will certainly be a weakened force.
Could you tell us about Karuna, with whom you have interacted on several occasions earlier?
Karuna's attitude is different. He doesn't take taxes, he doesn't want to abduct people, he doesn't want to kill people. He has stopped all that. At least so far. I can't speak about the future, [but] it appears he will have a fairly good support base.
But suppose the peace process breaks down and push comes to shove, does it mean the Sri Lankan army will face two different factions of the LTTE?
Of course, yes! But in any case we were getting ready to fight in both the north and the east, so the situation remains the same as far as we are concerned.
Main photograph: STR & TAUSEEF MUSTAFA/AFP/Getty Images
Image: Uday Kuckian