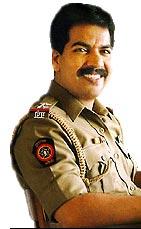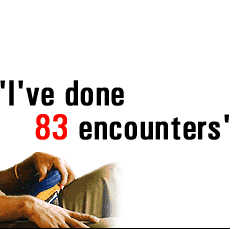 Sub-Inspector Daya Nayak, the Mumbai Police's best-known 'encounter' specialist, is the reported inspiration for N Chandra's Kagaar and Ram Gopal Varma's Ab Tak Chhapan. 
Mangalore-born Nayak began life cleaning tables at 9 at Mumbai restaurants before joining the city police force.
After killing 83 gangsters in 'encounters,' Nayak found himself accused last week of being in cahoots with the same underworld he has pledged to annihilate.
Nayak responded to the charges in a frank chat with Contributing Correspondent Vijay Singh at his office in Andheri, northwest Mumbai.
Tell us about the journey from your village to being a police officer.
In 1979 I came to Mumbai from my village in Karnataka. I had studied till the 7th standard in a Kannada school. Our family's financial condition was very bad. So my mother told me to go to Mumbai to earn some money to help the family.
I came here and started working in a hotel. I was on good terms with the hotel owner. They treated me like a family member and insisted that I join school.
I completed my graduation while still working in the hotel. I studied and slept on the hotel's porch. I worked for eight years in the hotel till my graduation.
After graduation I started working with a plumber as a supervisor. He used to give me Rs 3,000 per month. I continued staying at the hotel till I got a police job.
What assignment brought you the spotlight?
After completing one year of police training, I was posted to the Juhu police station in 1996. I was assigned to monitor the Juhu jurisdiction on the night of December 31. I was informed by one of my informers that two members of the Chhota Rajan gang were going to be there.
I went there to arrest them, but they fired on us. In retaliation I shot them dead.
I was new [in the department] so I became worried after the encounter. I had fired at them because they fired on me. I was worried because they were big gangsters. But the police department appreciated my work, and that gave me more confidence. After that, I was shifted to the special squad working against gangsters.
How many 'encounters' have you been involved in so far? Any big names among them?
I have done 83 encounters. I have arrested more than 300 criminals. I have solved many big cases.
I eliminated many top criminals of Mumbai -- Vinod Matkar, Rafik Dabawala, Taufiq Kaliya. In an encounter at Dadar's busy flower market during peak hours I was injured and hospitalised for 17 days. I gunned down three terrorists. They had thrown a bomb at me but luckily I only suffered minor injuries.
There is always a controversy after an 'encounter.' Does this affect you?
This is part of pressurising us. The ISI and big gangsters are after us. Because we have a good network they can't do anything to us. So they adopt other ways to harass us. They make false allegations against us.
Many people are trying hard to make us work under political pressure, but it doesn't matter. I know what I am doing is right. That is enough for me.
You opened a school in your hometown. Who supported you in this endeavour? There was a controversy about that too.
I studied in a primary school built by my grandfather. After completing Class VII, children had to travel 15 to 20 km to study. I was emotionally attached to the school. Some people decided to make that school till SSC so we approached the Karnataka government, they provided us land.
My village friends and I worked hard to make that school till SSC. I had a police job and a good name in Mumbai so my village friends put me in front while approaching people to build the school.
It is not a private school, it is a government school which has just been developed by us. People who helped build the school are either my friends or others who have directly helped the school.
I have good terms with many film personalities because of my loyalty towards my work. Amitabh Bachchan was present at the school's inauguration. I handed the school over to the Karnataka government after the inauguration.
I handed over a file in which I mentioned details of who donated money for the school and how the money was spent to the Maharashtra government.
Some media people said Dawood Ibrahim and Chhota Shakeel financed the school. They wanted to have me suspended. I faced an inquiry. I was transferred from here for two months, but nothing came out of that inquiry.
Films are being made on your life, you are reportedly writing a film script and apparently financing a film.
Film finance, no! I don't have so much money to finance films. This is a rumour.
Many people from the film industry know me. If they make films on police life, I give them some guidance. Sometimes I also tell them how the underworld and police work because what they show is not right.
There are ups and down in my life. It's like a film story. Many people approached me to make a film on my life. I tell them the facts, but leave it to them -- to what extent they will show my life on screen.
I hear Kagaar contains the maximum facts about my life. I just want that a good image of the police be shown on screen.
Ketan Tirodkar, a former Mumbai journalist, has filed a petition against you, alleging that you are influenced by the underworld.
Ketan Tirodkar used to work with Chhota Shakeel and is now making allegations about me? The facts will be revealed in court on November 3.
I never got involved with the wrong people or in any unlawful activity, that is why such people have adopted this way to target me.
I assure you I will never be involved in any wrong activity because I have seen a day when I had nothing. I don't want to do anything wrong because I know god will punish me.
Will we see you in politics in the future?
Many people say I am going to join politics, it is incorrect.
I am very satisfied with my job. I will retire from this department. Emotionally I am very attached to it.
What about family life?
We don't have a personal life. We lead such risky lives that there is no place for family life.
Design: Uday Kuckian